I hope you find my posts informative and helpful. Just so you know some links in this post may be affiliate links. For more information review my Privacy Policy.
When you have a newborn on the way, it can be overwhelming to be prepared for a new precious life and all the responsibilities that come along with birth. You have to find the right bottles, the right pacifiers, the right pram, the right crib, and the perfect gadgets that assist you in traveling with your baby.
When looking for the best way to travel around with your child, you want to find the most comfortable carriage but even more importantly, you want something you're confident that will keep your baby safe. As a parent, you already worry constantly about your children so the safety of the perfect pram should ease your stress a bit.
So, we're going to learn about the prettiest pink pram travel systems on the market so you can push your newborn around in style!
The Differences Between Prams and Strollers
Despite prams and strollers being used interchangeably in parenting conversations, they are two very different travel systems made to help with getting around with children. It's important to learn the differences between the two and what is recommended for a newborn.
Prams
The word pram is actually short for the word perambulator. A perambulator, also known as the pram push chair, is a horizontal wheeled carriage for babies. Prams—including the double pram for twins—are best suited for newborn babies because they lay flat making it easy for babies to sleep.
Prams are heavier than baby strollers so they can make a long distance walk a bit more difficult and tend to have fewer safety features than strollers.
They're higher off the ground and have soft bottoms so your newborn is kept comfortable during your walk and even offer soft pram liner for added comfort. They usually have a collapsible canopy to protect your baby from direct sunlight and other outside elements.
Strollers
Strollers are built for children who are old enough and able to sit straight up and down. A stroller doesn't let the child lay to sleep but instead sits the child up or lets your baby recline at a slight angle.
Baby strollers are more lightweight than prams and often have all-terrain wheels so they're easier to push longer distances. They also have tons of safety features to keep your little one in the stroller and protected from injuries.
Most strollers, like prams, come with a canopy to protect your child from too much sun and even dirt and grime.
Now that we know the differences lets check out some great prams for newborns!
The 3 Best Pink Prams for Newborns
This amazing pram made by Cynebaby isn't just what it appears. It's not only a pram for babies aged newborn to 6 months old. It can be folded into a stroller where the child is either semi-reclined or sitting straight up and down for children aged 7 months to 36 months.
Since it's a "convertible" pram, you can face your little one toward you or toward the outside scenery.
The handlebars are also adjustable so you can adjust the handlebar to a comfortable height.
This pram is made from eco-friendly and anti-bacterial fabrics that are super tough.
The frame is made in a triangular structure for stability and is made from anti-rust aluminum alloy.
The plastic on the pram is non-toxic, first-class PA. This plastic won't oxidize or crack easily.
It includes a food tray, canopy, warm foot cover, seat cushion, cup holder, and a mosquito net.
The safety features of this pram are numerous. Time and thought were put into every detail to protect your child from harm. It has anti-shock springs in the front wheels to prevent a bumpy ride and has 12-inch ax-shaped rear rubber wheels so you can push the pram on all road types.
This design has passed the American ASTM F833 safety standard test.
It also comes with a 180-day 100% money-back guarantee as well as a lifetime warranty.
This pram is made by Belecoo and is made for babies ages newborn to 3 years (or up to 55 pounds). It can be adjusted from a pram to a stroller or even folded completely down so you can pack it into your vehicle, saving you space.
You can face your baby towards you so you can see their smiling faces or you can face them outwards so they can enjoy the scenery.
The handlebars are non-slip as well and have a button that helps you adjust the handlebars to what works for your height.
The inside of the pram is roomy (31 inches by 14 inches) and uses some of the softest fabric you'll come across.
Belecoo uses an innovative strap system that will keep your baby in the pram or stroller safely while remaining comfortable.
The wheels are made of natural rubber so you won't have to worry about them exploding. The wheels also have shock springs for a smooth ride and a pedal brake for extra safety. You can also lock the back wheels so the pram won't run away from you if you're stopped.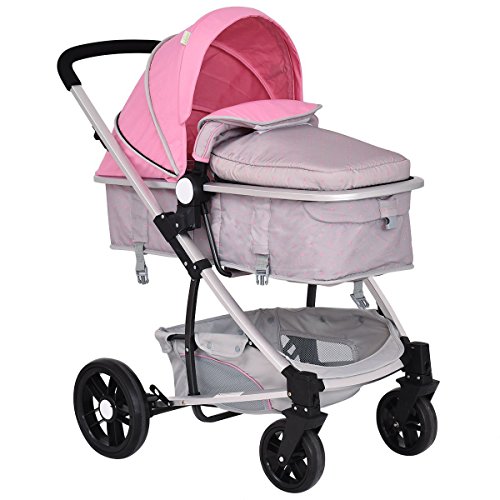 Like the other prams on this list, the Costzon's pram has the ability to be changed from a pram into a stroller or even folded up for saving space while you travel. It's great for any compact needs.
This pram includes a warm foot cover to protect your baby's feet from cold weather and harsh winds. This foot cover can also be removed if it's too warm outside for use.
The canopy on this stroller is made of a breathable and non-toxic Oxford fabric to protect your baby from hot weather and other outside elements.
The storage space under the pram is expansive and has plenty of room for groceries or anything you may need to store from diapers to bottles.
You can choose to face your baby towards you or towards the scenery outside.
The frame is made from a durable but lightweight aluminum.
It has a 5-point safety harness to keep your baby safe from falling out. It even has lockable wheels for extra safety so your pram won't roll away from you when you're not payinfg attention.
These top of the line and fashionable prams will make transporting your baby during a walk smoother while keeping your baby safe and out of harm's way.