I hope you find my posts informative and helpful. Just so you know some links in this post may be affiliate links. For more information review my Privacy Policy.
Taking your baby for a walk in the summer is a great way to get out and about, especially if you have a newborn and you need to get out of the house yourself. Whether using the car seat or under the canopy, one thing you always need to be careful of  is making sure you keep them nice and cool. A simple way to do this is with a stroller fan. With a clip-on blower fan and a couple of AA batteries (or a rechargeable battery), just clip it onto the tray or frame, aim it at your little one, and you're ready to go. Here are 5 of the best ones around: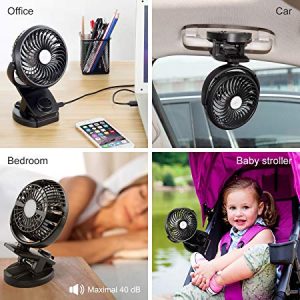 The Comelife Baby Stroller Fan is packed with awesome features that make it our top pick for a baby stroller fan. For one, it runs on rechargeable lithium batteries which are included. It gets a full charge in as little as 4 hours. A USB charging cord is included which means you can charge it just about anywhere, even in the USB port in your car. Then, simply clip it to your little one's stroller for up to 32 hours of battery life on the lowest setting. To change the speed, just turn the dial. The clip is secure and easy to use and the fan rotates 360 degrees vertically and horizontally so you can position it just right.
Here's the best part. This fan also includes an aroma diffuser. It comes with a small, circular sponge that can be inserted into the center of the fan. All you have to do is place a few drops of essential oils on the sponge and place it in the fan. You can use calming essential oils if the baby is fussy or, better yet, use oils that are a natural insect repellent to keep the mosquitoes away.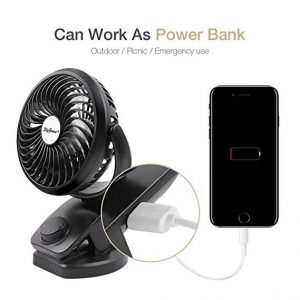 Another great choice is the Sky Genius Portable Fan. Depending on the speed, this fan can run up to 32 hours with fully charged batteries. They're included and there are a lot of ways to charge them using the simple USB charging cable that comes with the fan. Plug it into your laptop, cell phone adapter, the USB port in your car, or a power bank. And get this, it can actually work as a power bank itself.
This is a quiet fan that has 350-degree rotation both vertically and horizontally and easily clips onto your stroller, making it easy to position just right. Speed adjustment is smooth and simple, too, just turn the simple dial. Another cool feature is the aromatherapy function. Just add essential oil to the foam to soothe your baby or keep the insects away.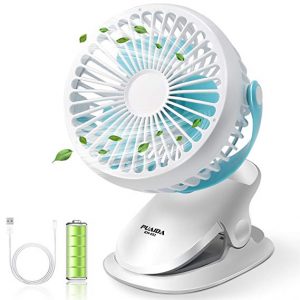 For a fan that's compact and perfect for your stroller, check out the PUAIDA Clip-On Fan. It can easily fit inside your diaper bag during travel and you can quickly and easily get it set up when you get the stroller ready to go. Just use the large clip to place it on your stroller frame or tray. It turns 360 degrees horizontally and vertically, too, so it's easily positioned so it's just right for your baby. Use the included USB cable to charge it just about anywhere. A full battery gives you 2 to 6 hours of operation, depending on which of the 3 speeds you choose.
This fan can also be used as a small table top fan. Because of the way the clip is designed, it can also sit on a flat surface without worrying about it falling over. That means once you're done taking a walk with your little one, you can bring your fan in the house or take it to the office and continue use.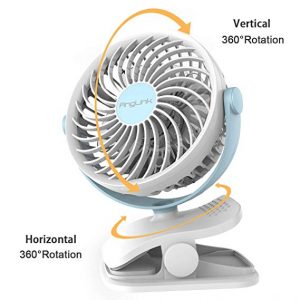 This fan from Anglink can pull double duty as a stroller fan and a desk fan. The clip is flat on the bottom and the weight is balanced so you can either clip it onto your stroller or sit it on a flat surface. We like that because it means you get more use out of it which makes it a better buy. The clip is strong and has a thick padded sponge surface for a sturdy grip. It rotates 360 degrees vertically and horizontally so it's easy to get it positioned just right for your little one.
There are 2 rechargeable batteries included as well as a USB charging cable. When the batteries are full, you can get up to 8 hours of use from this fan, depending on the speed. There are 4 speeds to choose from and even the fastest is surprisingly quiet. This fan is made of lightweight, durable material that's built to last. In fact, it even comes with a 3-year warranty. Plus, the white and pastel blue color combination is the perfect addition to a baby stroller or crib.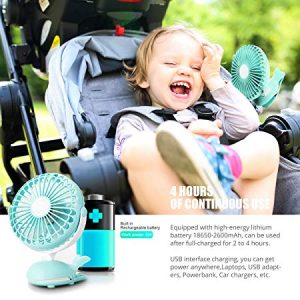 Our last pick is this adorable fan from Aikmi. It adds a bit of whimsy with a bright aqua and white color scheme and the adorable whale-shaped clip. The clip is also designed to sit on a flat surface so you can actually get use out of this fan beyond your stroller. It has stepless speed control so you can adjust the settings quickly and quietly. And speaking of quiet, even when set at its fastest speed, it's still relatively quiet.
Rechargeable batteries and a charger are also included. It takes about 5 hours to charge completely and can run for about 4 hours on a full charge, depending on the speed setting. Because it uses a USB charger, you can simply plug it into your laptop, computer, cell phone charging brick, and even a USB port in your car for charging on the go.
The clip holds securely and the fan rotates 360 degrees both horizontally and vertically. All that and it also comes with a 24-month warranty for free repair or exchange.