I hope you find my posts informative and helpful. Just so you know some links in this post may be affiliate links. For more information review my Privacy Policy.
Having two kids can be a bit of a circus. That's why having a good double umbrella lightweight stroller is key. They're lightweight, convenient, and will make it easier to keep both your kids happy so you can enjoy your time out and about a little more.
What Should You Look For?
Like single strollers, baby strollers, baby joggers or similar jogging strollers, lightweight double strollers, and strollers that double up as infant car seats, when it comes to double umbrella strollers, or tandem, there are a few things all parents must consider:
Convenience. It should be easy to fold and unfold, plus you should be able to lift it easily on your own.
Seats That Adjust Independently. Your kids are rarely going to want the same thing at the same time. You need to be able to make everyone happy.
Storage. A place to safely tuck your keys and wallet will come in real handy. Plus, look for one with a large storage basket so you can take your diaper bag or any other necessities with you.
Now, here are 5 of the best double umbrella strollers to keep both of your kids comfy, cool, and under control during each smooth ride: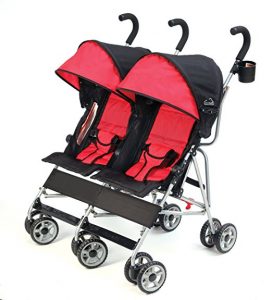 The Kolcraft Cloud is the perfect name for this side-by-side double stroller. It weighs only 21 pounds—as light as air for a double stroller! One thing that's really great about this stroller is that the seats recline independently.
If you have young kids, you know that they're not always easy to satisfy. Positioning each one independently is essential for everyone's sanity.
There are even roll-up cool climate seatbacks and canopy coverage so you can make the appropriate adjustments for temperature, sunlight, and rain.You also get a parent cup holder, perfect for holding that iced coffee when out for your morning walks.
It holds up to 35 pounds in each seat so you can probably use this with your kids through their preschool years.It's easy to fold and put away, too. Overall, this is a great choice that will help keep your little ones comfortable and is easy to maneuver when you have your hands full.
The Twin Triumph from Maclaren is compact and easy to transport, plus it's narrow enough to fit through standard doorways. It's suitable for children from 6 months until they weigh 55 pounds.
The long leg rests make it a good fit for kids that are a little older. Wheels and handle grips that wear out quickly can easily be replaced so you can use this stroller for years and year.
It's also really lightweight at only 21 pounds and is nice and compact when folded—easy to maneuver when you have two small kids thanks to the carry strap.
You can even effortlessly fold it up with one hand.The seat fabric is removable and washable—an essential feature for a stroller. There are waterproof hoods and it comes with a wind-resistant rain cover. You truly get everything with this stroller including a lifetime warranty.
This double umbrella stroller from Joovy is packed with all kinds of cool features. Unlike a lot of umbrella strollers, this one is newborn-ready. The seats have a special bassinet mode that's perfect for newborn twins or your older child and a new baby.
The peek-a-boo windows in the top let you look down on your little ones while you're walking, just to make sure they're enjoying themselves.
Each seat reclines and converts independently and can hold a child up to 50 pounds.The fabric is water-resistant and the canopies have an SPF of 50, making this an ideal stroller in any weather. Safety reflectors make it safe even at night.
You also get three cup holders, two zippered pockets where you can put keys or your wallet while you walk, 6 big wheels for easier maneuverability, and a carry strap for easy transport. It only weighs around 26 pounds—the perfect size for travel.
Another option that's suitable for newborns, the UPPAbaby G-Link stroller has 4 independent seating positions for each seat that adjust with a one-handed recline mechanism.
The footrests are adjustable, too, so each seat can be adjusted for children of different ages.The removable canopies have a view window so you can keep an eye on your little ones while you walk.
The sunshade has an SPF of 50 to protect them from any harsh sunlight. This comes in really handy for babies less than a year who aren't supposed to wear sunscreen yet.
It comes with one removable cup holder but can hold 2 if you want to get a second. Folding it is simple and there's even an easy carry handle so you won't have any trouble transporting it from the trunk of your car to the road.
It's lightweight, too, at only 24.5 pounds.Storage is important when you have little ones and this stroller gives you double storage pockets for important things like your wallet and keys. There's also a storage basket so you can stash the baby essentials when you're on the go.
This is the narrowest stroller on the market, able to fit comfortably through any standard doorway with a little room to spare. It's suitable for newborns thanks to the netted pouch, essentially wrapping them in a little cocoon.
You'll be able to use this for your big kid, too, up to a weight of 50 pounds. The hoods expand and provide SPF 50 to protect your little ones on sunny days.
They operate independently so you can make both kids happy without much fuss. Seats are adjustable with one hand, too, so they're really easy and fast to use.Viewing windows in the top of the hoods allow you to always keep an eye on your babies.
There's even a storage pocket on the hood, the perfect place to stash your keys and any other small valuables when you're on the go.There's also a large storage basket for toys, sippy cups, diapers, or anything else you need to bring along.
The 5-point safety harness has a two-finger release so your nimble toddler won't be able to undo the belt himself while you're distracted with your newborn. One of the coolest features on this stroller is the extendable ergonomic handles, perfect for taller parents who need the extra height.