I hope you find my posts informative and helpful. Just so you know some links in this post may be affiliate links. For more information review my Privacy Policy.
It looks like the Maclaren Triumph but weighs even less. A great travel stroller with an adjustable seat and over-sized hood
Lauren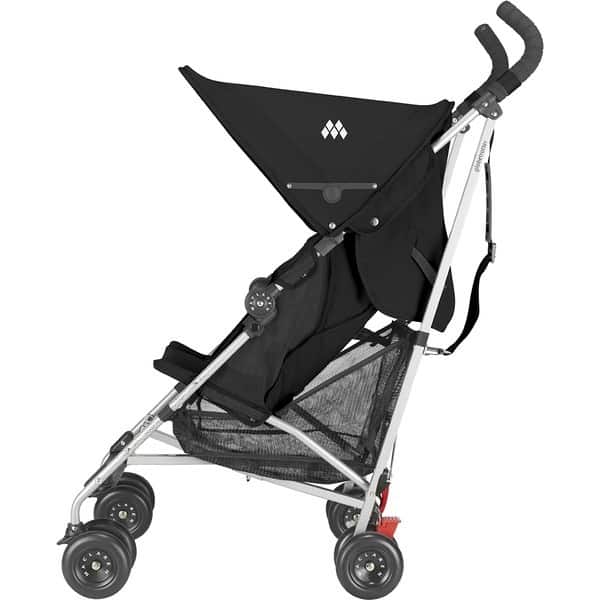 my husband even carried it up the Eiffel tower – whilst carrying our toddler during the same time!
I have had a look the incredible useful Maclaren Globetrotter Stroller, an excellent stroller for travelling. The Globetrotter comes in loads of different colours, but I prefer the (black) version.
Buy the Maclaren Globetrotter Online
A Fantastic Stroller for Travelling


Maclaren Globetrotter Stroller (Black), by Maclaren
The Globetrotter is Maclaren's lightest reclining buggy ever and a great stroller for parents who love the Maclaren Volo but want the flexibility of a reclining seat. It is a perfect stroller for mums who are looking for a superlight stroller and it's simple to fold, store, and ideal for travel.
Below I will provide a comprehensive review of the Maclaren Globetrotter Stroller, which should help you understand whether this stroller is what you are looking for.
Is the Maclaren Globetrotter for you? Let's find out!
Primary Features and Specifications
Let's start with the specification of this stroller:
» Comes in three distinct colours, including black, scarlet/charcoal and medieval blue/festival fuchsia
» Equipped with an extensive waterproof hood with a large canopy for additional coverage
» Includes a variety of seat positions to ensure the comfort of your child
» Has a weight of 5.kg, making it easy to transport wherever you go
» Suitable for children from 6 months
» The seat is removable and can be machine washed with ease
Detailed Product Description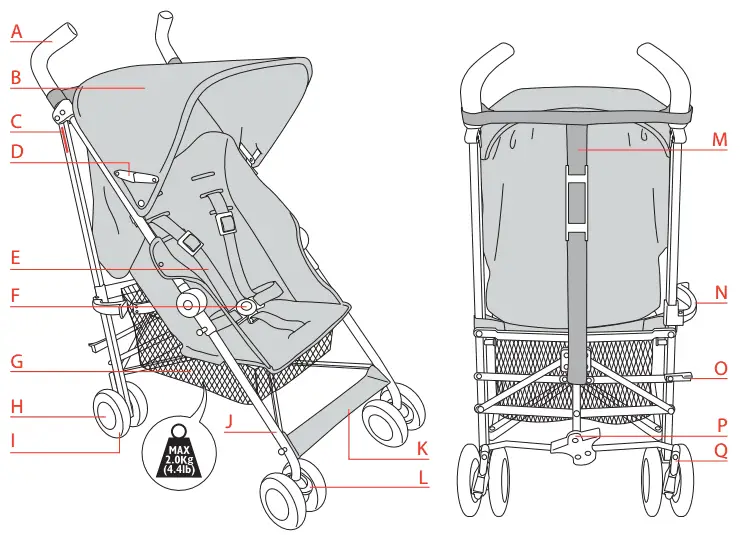 A – Handle

B – Hood

C – Model

D- Hood Tensioner

E – Harness

F – Harness Buckle

G – Shopping Basket

H – Hubcap

I – Tyre

K – Footrest

L – Swivel Lock

M – Carry Strap

N – Uplock

O – Secondary Lock

P – Primary Lock

Q – Parking Device
The Key Features of the Maclaren Globetrotter
A fully Reclining Seat
The Maclaren Globetrotter stroller comes with a wealth of different features that make the tram stand out among the other available options.
For instance, the stroller is able to be reclined in multiple positions. This video from Kiddicare illustrates how easily you can adjust the strap:
To ensure that this the seat position can be changed quickly and efficiently, Maclaren has included a useful recline system that changes the seat position between the three available options in mere seconds, due to its ability to be one-handed. This is handy during those days where your child is going to be spending a lot of time in the stroller, as different reclining positions can keep them comfortable at all times.
A Waterproof Hood
Another key feature is that of the hood. The hood is made to be over-sized in comparison to the hoods of many similar strollers. This is done in order to protect the occupant from both rain and harmful UV rays.
The hood is completely waterproof and has a UPF of +50. Which gives you enough protection for dangerous rays:
| | | | |
| --- | --- | --- | --- |
| UPF Range | Protection Category | Effective UV-R Transmission (%) | UPF Rating |
| 15-24 | Good | 6.7-4.2 | 15, 20 |
| 25-39 | Very Good | 4.1-2.6 | 25, 30, 35 |
| 40-50, 50+ | Excellent | Less than 2.5 | 40, 45, 50, 50+ |
Source: http://www.rei.com/learn/expert-advice/sun-protection.html
There's also a nifty little storage pocket where you can put smaller things you need to have quick access too (and don't want to put in the storage basket). Things like mobile phones, sunglasses, etc.
It should be noted that the cover is wind-proof as well. How great it that?
But there is more:
The Globetrotter comes with A Complete Warranty
When looking to purchase a stroller, one of the most often overlooked features is that of the warranty that comes with the stroller.
There are a number of situations that could result in damage to the stroller. If this is the case, paying for a new stroller can be frustrating. Thankfully, the Maclaren Globetrotter stroller comes with a full lifetime warranty, which they are really proud about to offer:
Though the materials used are durable and made to withstand quite a bit of handling, a warranty could prove to be useful.
Anyone looking to buy this stroller should remember that the pram needs to be registered directly through Maclaren Online within the first 60 days after it has been purchased in order for the warranty to be in effect.
An Ample Storage Basket
Owner of the Globetrotter stroller will also be happy to find that there is a rather sizable shopping basket located towards the rear of the stroller. This basket is one of the largest available on trams and can store pretty much all your baby gear.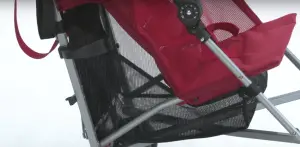 Light and Easy-To-Fold
One of the very best features of this stroller is just how lightweight it is, as it comes in at a mere 5 kilograms. Due to the fact that it can also be folded very easily, makes the Maclaren Globetrotter it the perfect stroller for use when traveling. It doesn't take up much space and is more than easy to store.
It's good to know the Globetrotter is living up to its name!
A Washable Seat
Another very useful feature is the washable seat that comes included with the stroller. This seat is easy to remove and easy to wash, which isn't exactly common with stroller. When washing the seat, it should be remembered that it needs to be placed in cold water and set to a delicate cycle before being hung to dry.
Read the instructions of how to remove the seat in this PDF from Maclaren
Customer Reviews and Thoughts
There are a lot of customer reviews that highlight the quality of the Maclaren Globetrotter stroller.
The score for the following review from Amazon comes out at 5 out of 5:
We bought this for our trip to Paris for our 1.5 year old. After reading some of the negative reviews we were surprised that it exceeds our expectations. It is very lightweight, so was easy for my husband and I to lift on and off trains etc. And my husband even carried it up the Eiffel tower - whilst carrying our toddler during the same time!
The steering was better than expected to. The pocket at the back was enough to hold a few bottles, and the basket held a small bag with nappies and clothes. We are so glad we bought it! It is perfect for city slickers who like lightweight options. The recline was also handy when baby was napping. She was very comfortable in it, and seems to prefer it now to her Bugaboo Bee."
Another one that also rated the Maclaren Globetrotter a 5 out of 5:
"Have brought this for holidays but am using it more often than are travel system as it is just so easy to use and light. Seat reclines well which is great for when baby is sleeping - I will possibly by the seat cushion as it is a little hard however he has always slept soundly in it as it is."
Overall, there are a total of 14 customer reviews that have been written for this product, with an average rating of 4.1 out of 5 stars.
What do other users on internet think?
Here is a good review by Jamie Grayson, AKA, thebabyguy:
Possible Cons of the Product
As with any stroller, there are a couple of cons by customers that should be mentioned.
For one, it has been said that the basket towards the back of the tram is a bit too small for shopping. With that being said, it is among the largest in regards to similar types of buggies.
Also, it is not the most beautiful of strollers, but considering the price, totally worth it I'd say.
Conclusion
Overall, there's a lot to like about the Maclaren Globetrotter: the stroller is lightweight and easy to fold, while the seat is comfortable and can be easily removed to be washed.
The reclining capabilities also add a lot to the feature-set of this particular stroller. I can say with confidence that anyone who is in the market for a lightweight stroller and is looking for a relatively affordable would be happy with choosing the Maclaren Globetrotter stroller.
What are your thoughts?