I hope you find my posts informative and helpful. Just so you know some links in this post may be affiliate links. For more information review my Privacy Policy.
I am a great fan of little handmade gifts to give at Christmas to my family. This year we decided with a few friends to do a secret Santa evening and I am preparing in advance all the little presents as I know that December will be a crazy month at work.
I decided to make essential oil bath fizzies from a Martha Stewart recipe and place them in a pretty looking decorative glass jar. This is a perfect gift if you don't have much time but still want to give something homemade with a personal touch. This is how it looks when finished:
Here is a quick 6-steps guide to making your own bath fizzies
INGREDIENTS
1 cup of Baking Soda
2 cups of Cornstarch
1 cup of Citric Acid
7 drops of food colouring
10 drops of Neil's Yard night time essential oil
#1: Sieve
Place all the ingredients in 4 cups of equal size. Take a sieve and start adding citric acid, baking soda and cornstarch in this exactly order so it will be easier to sieve (Citric acid is slightly thicker and you need to have a clean sieve to make it go through smoothly). Start eliminating any chunks present in the ingredients. Once you have finished with sieving, mix the ingredients together in a glass bowl so it is easy to see any white parts when you start adding colour afterwards.
#2: Prepare a spray bottle
Have a spray bottle at hand. You can recycle one of the bottle that used to contain kitchen cleaning products. There is no need to buy a special one for this project. Add one cup of water in the spray bottle and include the food colouring.  I chose a red one food colouring as I wanted to have pink cubes.
#3: Add the water to the mixture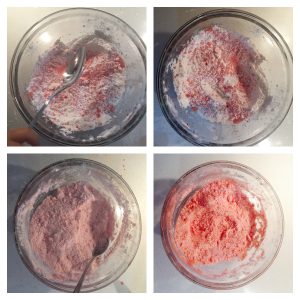 Little by little, spray the coloured water to the mixture. Stir constantly in order to avoid that the entire mixture fizzes up. Add the essential oil to the mixture. I sprayed the mixture 4 times before obtaining my desired hue of pink. You need to make sure that the powdery mix does not become too wet. It needs to be malleable when you touch. A little fizz is ok, too much of it is a bad sign.
#4: Put the mixture in a silicon mould 
I chose this purple silicon mould in Amazon but if you are planning a trip to Ikea, they have similar one at a cheap price. Put the mixture in the mould. Push the mixture down with your thumb (once only) so the cubes are firm and compacted. Let it dry for at least 2 hours. You need to push the mixture down with your thumb (once only) so that the cubes are firm and compacted.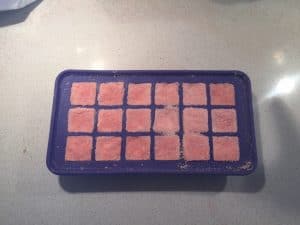 #5: Prepare your jar
I decided to decorate the jam jar and transform it into a pretty and inexpensive container for the bath fizzies. I cut out a fabric sample I had to the exact same shape as the jam jar lid. I also used a festive ribbon to cover the lid border. I glued all the fabric to the lid with Modge pod glue (brush the top of the lid with glue to make it is more resistant to wear and tear)
#6:  Pop out the cubes carefully 
Test if your cubes are ready to be popped by touching the surface of the mould. The cubes should feel dry to the touch. Be cautious when popping the bath fizzies out of the mould as they are very delicate at this stage. Insert the newly extracted cubes in the previously decorated jar. Adorn the glass jar with a Christmas label.
If you decide to keep these lovely bath fizzies for yourself, add 2 cubes to your bath and relax!
Do you also create your own Christmas gifts? I'd love to see your projects!
Love,
Carla
xx