I hope you find my posts informative and helpful. Just so you know some links in this post may be affiliate links. For more information review my Privacy Policy.
Finding the right stroller can be a tough task. There are so many options on the market at every different price point. Some can be transformed into a car seat, some are double strollers, and others are a standard baby stroller seat with child tray. So, how do you balance features and safety with your budget? Does a bigger price tag mean a better product? All of these are important questions that every parent must ask.
Peg Perego is a popular name in the stroller market. Their products are considered to be among the best and parents have found that Peg Perego strollers and baby carriages are made with the highest quality in mind. With that said, it should be noted that these strollers are not perfect. They have many incredible features but, like with any product, there are a few areas where Peg Perego strollers can improve. Let's take a look at some of the pros and cons of this quickly growing brand.
Pros
First up, is style. When you see one of these baby carriages it simply stands out. The styling is modern and sleek. If the world's top fashion designers got together to make a stroller then this is what would result. A stroller's utility is most important, of course, but it helps if you also look good while using the stroller. If style is important at all to you then you will definitely want to consider a Peg Perego stroller.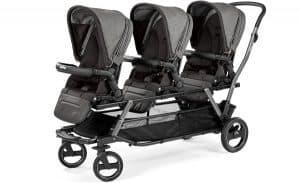 Peg Perego also packs in a ton of safety features. The 5-point harness holds your child secure in the stroller. An unexpected bump won't send your baby bouncing around the inside of their stroller. Hopefully, you will never need to make use of the 5-point harness capability but it is a good preventative measure to have at all times. There is also a bumper bar which puts some added security between your child and the environment. In a situation where something may bump into the stroller, the bumper bar will take the brunt of the force before it reaches the carriage portion of the stroller. Of course, this bumper will only be effective in low-speed bumps but those are most likely going to be the most common bumps you experience with a stroller.
Speaking of bumps—the all-wheel suspension will definitely help your child enjoy a smooth ride. This feature sounds like something you might find on a luxury SUV but it's actually a feature of the Peg Perego stroller. The suspension absorbs shock as you ride down bumpy roads or sidewalks so your baby can enjoy a smooth, comfortable ride. This is perfect if you're the type to take your baby for a walk around the block to help them fall asleep. It's much easier to get some shuteye if you aren't being bounced around the inside of your stroller.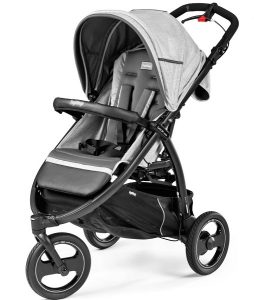 Of course, this stroller is built with baby in mind but the parents are not forgotten about, either. There are a number of convenience features included with a parent's comfort taken into consideration. The large basket at the bottom of the stroller is one of the most notable features you will see when you first glance at a Peg Perego stroller. There's no shortage of storage which makes the Peg Perego a great stroller for short walks or long hauls throughout the day. The adjustable handlebar quickly locks into position to suit your unique height. Moving the bar around is quick and easy. Mom and Dad can take turns pushing the stroller without compromising on comfort or taking a bunch of time to reconfigure their setup. And, adding to parental comfort, there is the included cup holder. Drinks are always within reach which means no stopping and searching when thirst strikes. A cup holder may not seem like a big deal at first but a lot of strollers do not include this feature and, instead, sell it as a separate attachment which is an added expense that most parents don't need.
Probably the most impressive feature from a convenience standpoint is the one-hand folding of the Peg Perego stroller. Fold up the stroller for compact travel in seconds with just one hand. Every parent knows that time and extra hands are not exactly easy to come by when transporting kids.
Cons
The main downside of the Peg Perego stroller is the price. A stylish stroller with a ton of features built in is not the most affordable option for parents. For parents who are on a strict budget, this stroller simply may be out of the question. However, it is well worth the cost if you have the money to spare.
Some commenters online have mentioned that the canopy height on the stroller is lower than many other models by up to 4 inches. This means that some children may outgrow the Peg Perego stroller before other options on the market. For some parents, that may be an unexpected and unwelcome outcome, especially when you consider the original cost.
Verdict
The Peg Perego stroller is one of the most expensive options on the market but there is good reason. There are a lot of features packed into this one stroller that puts comfort at the forefront for both children and parents. While the upfront cost may be significant it should be noted that almost anything you would need for this stroller is included. A raincover, canopy, and cup holder are all included with your original purchase.
There are less expensive options on the market—there is no doubt about that. However, if you want top-of-the-line quality, style, and features then you will have to pay for that. If your budget allows it, the Peg Perego stroller is a perfect choice.