I hope you find my posts informative and helpful. Just so you know some links in this post may be affiliate links. For more information review my Privacy Policy.
I have always been fascinated by decoupage and the way it transforms pretty boring objects into fun and colourful items. Decoupage,  from the French word découper meaning to cut out, is the art and craft of cutting little pieces of material and glue them to an object and then covering it with several coats of varnish.
If you look at a finished decoupage object, you would think that the technique is quite complex and time consuming. The reality is that decoupage is an easy and fun craft that will allow you to inject some fun into the most normal and anonymous of the objects in your home.
It can be an inexpensive craft, as you probably already have the majority of the supplies lying around your office/home. Of course you can buy everything you need from one of the art and craft shops.
For this project I wanted to decoupage some papie-mache animals for my son's bedroom. I selected a cat, a brontosaurus and a giraffe from cassart.co.uk . The first animal to be covered in little pieces of paper is the Brontosaurus.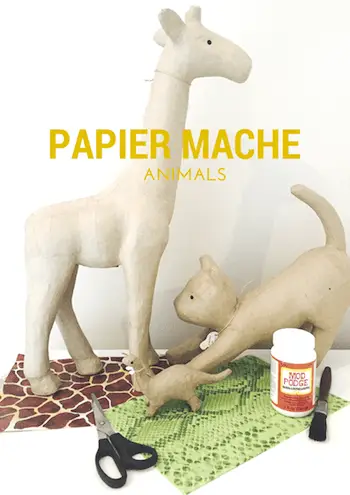 The paper is a crocodile-type paper with an interesting dark and light green pattern. I wanted to give a semi-realistic reptile feel to the brontosaurus, so I thought that this Decopatch paper would be ideal.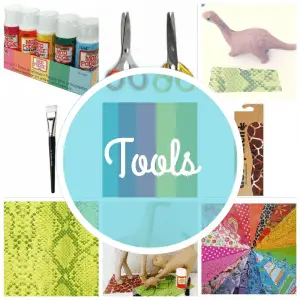 Tools
- The object to decoupage: Brontosaurus
- Paper, magazines cut outs, fabric
- Scissors
- Glue/Varnish (Mod Podge does both)
- Brush
Dos and Don'ts
Do
Make a sketch of your decoupage project so that you know what goes where
Cut out all the pieces you think you are going to use for the project. Once you start, you do not want to stop to cut out more pieces
Put the lid on your glue if you pause for more than 1 minute. The glue dries quickly and you do not want to have to throw away a new bottle of mod podge.
You can use paper, wallpaper, fabric and anything else you fancy. Bear in mind that more flexible the material easier will be to apply to curved surfaces
For materials like wood and metal, you may need to apply latex paint as a primer to the surface so that the cut-outs will adhere better.
You might want to protect your working area with a newspaper. Decoupage is not a particularly messy craft but you never know when you will drop some glue
Don't
Don't use any images printed on an ink-jet printer. The colour will smear and fade when you apply the top-coat
Don't use pattern paper for your first project as it is more difficult than using plain paper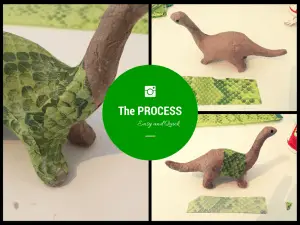 Here is how you make it - step my step
1. Prepare surface - Make sure your surface is clean and there are no deep holes in it.
2. Cut-outs - Decide the design layout and cut out the pictures and images
3. Organise the pictures  - So you are happy with the arrangement. You might want to use tweezers for tiny pictures
4. Glue the pictures to the object  - smooth out any wrinkles and wipe out glue excess
5. Varnish
This is my little brontosaurus: work in progress through to the finished result:
[slideshow_deploy id='384']
The photos show that decoupaging this little animal is very easy. The key point is to pay attention to the pattern and to make sure that you do not mismatch dark pattern with light pattern too much. Choose small pieces so that they can bend easily around all the curved areas of the Brontosaurus. Once you have covered the whole area, brush the entire animal with Mod Podge glue.
In the next few weeks, watch this space for the other 2 decoupage animal: Giant giraffe and Cat.
Have you decoupaged anything recently? Please comment with links to your creations. I'd love to see them!
Love,
C xx