I hope you find my posts informative and helpful. Just so you know some links in this post may be affiliate links. For more information review my Privacy Policy.
Parents of twins, or children who are born a year or so apart and under or around the age of four, may want to consider purchasing a side-by-side double stroller over two single strollers or tandem stroller products for a variety of reasons. If you fall into one of these categories, then this article is certainly something you should check out. I say this because there are many interesting features and brands of side-by-side strollers that you may not be aware of. This article will help explain why you may need one of these products and hopefully make your purchase an educated one.
Nowadays, there are many kinds of strollers and infant car seats on the market, such as lightweight double strollers, umbrella strollers, jogging strollers, double jogging strollers, compact double strollers, and of course, side-by-side strollers. In order to educate those who aren't sure why they would need a side-by-side stroller it is first important to simply explain what these products are all about. First of all the popularity of tandem and side-by-side stroller have increased rapidly in the past few years simply because the products are extremely useful for parents with two kids. This is especially true of parents of twins or similarly aged children under or around the age of four as it makes transporting your children much easier.
Twin or side-by-side strollers are pretty much two single strollers that are attached to each other. The concept is pretty basic though certain brands of side-by-side strollers offer unique features others may not have. Some of the positive features most side-by-side strollers offer are that they are positioned in a way that both children are seated so that they have equal vantage points. This is certainly something that experts agree children tend to prefer. The seats are also a bit shallower then tandem strollers which make the stroller's maneuverability better and allows the parent easier access to both children.
The features mentioned above are just some of what side-by-side strollers offer parents, but in order to best inform potential customers why they may prefer a side-by-side stroller, I'll go over the features of some of the more popular brands. This will give you a more accurate view of what you're getting when you purchase this product.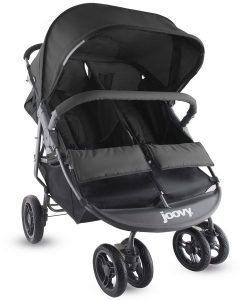 One of the more popular models of side-by-side strollers is the Joovy Scooter X2 Double Stroller. This particular product has garnered many favorable reviews because of its quality and affordability. At just around $200, you will get an amazing product that has everything you need from a side-by-side stroller. These include a large sun canopy, big seats capable of carrying around 45 pounds that can also be folded out to a nearly flat position, and sizable front and back wheels that allow for smooth maneuverability.
The best part about this product is that all of the features mentioned above are able to fit into a 30" wide frame. This allows the stroller to fit easily through even the tightest of spaces. The only real knock on many side-by-side strollers is that they are simply too wide to use practically as they don't fit through smaller doorways which will cause parents headaches. Thankfully, this product and many similar products have figured out ways to fit all of the necessary features required on strollers in a sleek and compact design.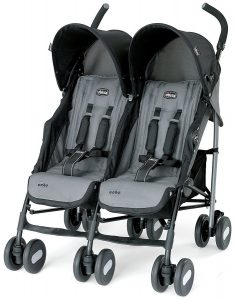 Another great side-by-side stroller is the Chicco Echo Twin, which is a little bit cheaper than the Joovy mentioned above, costing just around $180. Just because this product is at the cheaper end of the spectrum doesn't mean you'll be getting an inferior product. In fact, this stroller has made many lists of the top side-by-side strollers because it's the total package.
It features two comfortable seats that recline to four unique positions allowing either child to be moved to whichever position they are more comfortable with. If your children are a bit older and happen to use the leg rest, this part is also adjustable which will cater to children of all shapes and sizes.
In addition to the features mentioned above, this product also has a five-point safety harness and durable wheels that allow for easy maneuverability.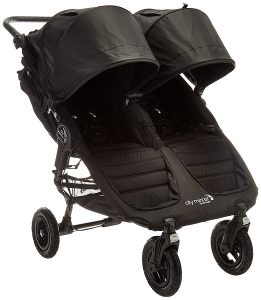 The Baby Jogger 2016 City Mini GT Double Stroller is simply what makes side-by-side- stroller one of the best products for parents of twins or similarly ages children under or around the age of four. It encompasses everything great about side-by-side strollers because of its all-terrain wheels, adjustable handlebar, quick fold technology for easy storage, and its ability to let you attach one or two car seats to the stroller itself.
This product will cost you around $500, but most customers find it well worth its rather a hefty price tag. An interesting customer review that I found while researching, points out that after having had seven children and using a wide variety of side-by-side strollers that this particular product was by far the most versatile and, therefore, this particular reviewer's favorite amongst all the others.
---
Conclusion
Hopefully, this article gave you a bit of helpful advice for those thinking about purchasing a side-by-side stroller. There are definitely pros and cons to these products and the decision to purchase one requires a bit of forethought. In researching this article, I found that the common debate is whether or not parents should purchase a tandem stroller or a side-by-side stroller. Though this choice is very subjective to what the parents and children are more comfortable, both choices have their own unique set of pros and cons.
Neither choice is significantly better than the other and often a little experimenting is needed to understand which choice is best suited for you and your children. I'd recommend giving each option a quick test drive before making your purchase. Sometimes, children will act up more when seated next to each other as opposed to one in front and one behind. In order to figure these types of questions out it's in your best interest to simply ask the store where you are purchasing your stroller if you can take it for a quick test drive to see how your kids act in that particular strollers environment.
---