Your adventures on the trails don't have to end when you have a baby. You just have to adapt. Three wheel baby strollers are a great way to travel with your little one over bumpier terrain or anywhere that you want a little more control when you're walking. Why is a three wheel stroller better? They have wheels and tires that are designed to handle rough terrain and they're much easier to handle and maneuver. Although most jogging strollers are three wheeled, not all three wheeled strollers are for jogging. We included a variety on our list of the top 5 best three wheel stroller reviews for 2017, each with additional features, such as adjustable handlebars, car seat adapters, and fold joggers with one hand fold.
This is a 3-wheel stroller that consistently gets great reviews and it's not very hard to see why. One of the best things about it is that you can use it starting with a travel system from birth all the way up to 65 lb. This could very well be the only stroller you need! The seat is roomy and comfortable and it has a huge canopy to protect your little one, come rain or shine. This stroller is so easy to maneuver and you can push it around with one hand, thanks to the forever-air tires and front-wheel suspension. The handle is also adjustable from 30" to 42" which is great if you're tall and have a hard time pushing an average stroller. We have to say that this isn't a jogging stroller. It's an awesome stroller for everyday use but it's not designed for heavy trail running or anything like that. You can fold it with one hand while holding your little one in the other. When you do fold it, it's very compact and will easily fit in the trunk of your car.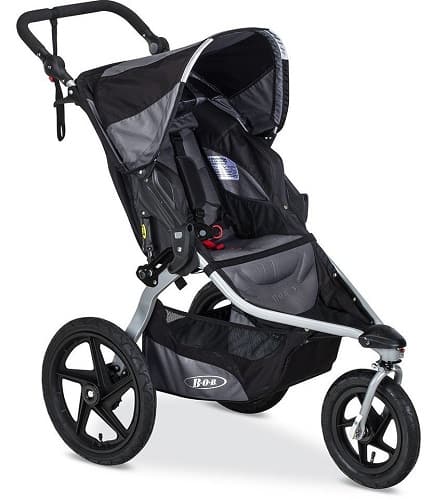 Now, this is a stroller made for jogging. For starters, you can convert this into a travel system if you get a car seat converter. Then you'll be able to use it from birth right up until your child weighs 75 pounds. This stroller maneuvers really well. The front wheel reacts really quickly. There's a large canopy to protect your little one from the elements when you're hitting a trail or just walking around town. It also has a deep recline in case someone wants a nap. And get this—one of our favorite features has to be the handlebar adjustment. There are 9 different positions to choose from, making this the perfect stroller for both tall and short parents. The air-filled tires and suspension system let this stroller go off-road without a problem.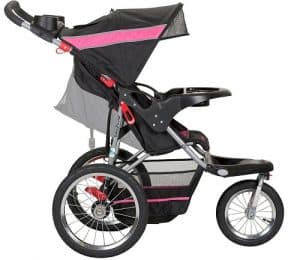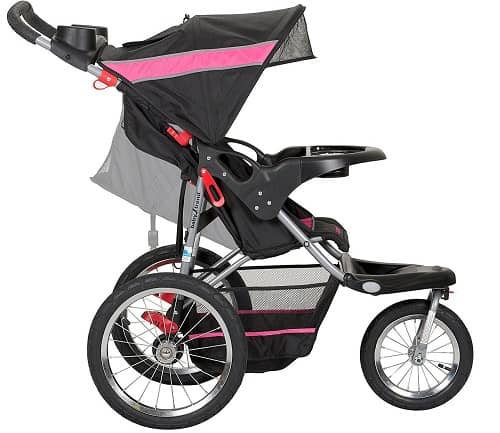 One of the cool things about the Baby Trend Expedition is that any Baby Trend car seat can fit right into the frame. If you already have a Baby Trend car seat or are currently looking for a system, this is definitely something to keep in mind. If you don't have a compatible car seat, you can still use this stroller when your baby reached 6 months up until they weigh 50 pounds. The seat has an easily adjustable one-hand recline. There's a canopy that you can reposition so you'll always be able to keep your little one out of direct sunlight. There's a tray for your little one, which comes in handy for snacks or little toys to keep her busy. Plus, there's a try for parents, too, that has 2 large cup holders and a small console. It has large bicycle tires to handle a variety of different terrain plus a swivel front wheel that locks when you want to jog.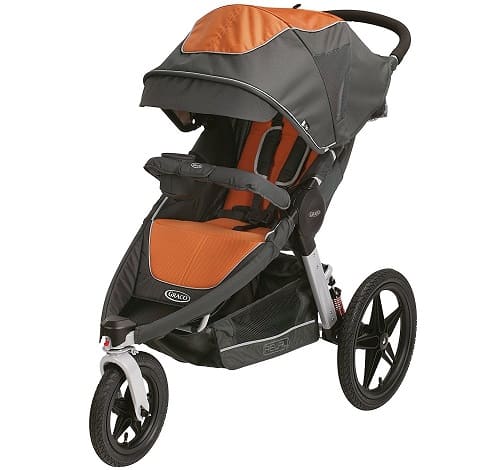 If you're in the market for a three wheel stroller that is loaded with any feature you can possibly think of, take a closer look at the Graco Relay Click Connect. If you have a Graco Click Connect car seat, it will attach right to this stroller so you'll be able to use it even when your baby is brand new. This stroller has a premium suspension that performs well on a variety of terrains. It comes with pneumatic tires and a locking front swivel wheel so it's ready to go jogging when you are. As for your baby, the premium fabrics are breathable and even have reflective piping for when you're running at dusk or dark and need to be seen. The seat reclines and has convertible 3 and 5 point harness. The large canopy not only provides protection from the rain, it also provides UV protection. There are some nice extras here for mom and dad, too. The parent console has a cup holder, phone pocket, and zippered storage bag so you have plenty of room to put all of your personal items when you're out on a run.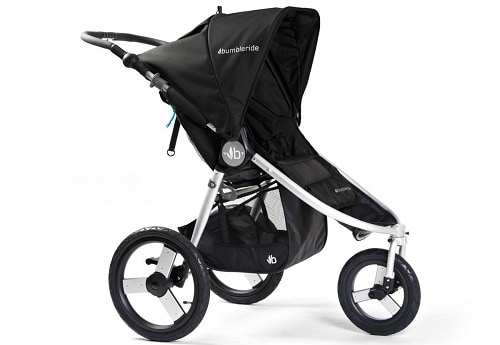 If you're a serious jogger and want a top of the line three wheel strolled to get back into it after that baby comes, this is one of the best out there. This top-of-the-line stroller is packed with awesome features. First of all, it has all-wheel suspension and 3 large tires that are filled with air. The front tire even has 3 different lock modes to choose from. The seat can hold babies from birth up to 65 pounds. That means you'll be able to use this stroller for a really long time. There are a lot of comforts for baby, too, like a large canopy, deep reclining seat, and even a bassinet that you can buy separately so you can actually jog with your newborn. The fabric is made of recycled materials but still feels soft and comfortable. There's a lot of storage, too, including a zipper pocket and 2 mesh pockets for mom or dad and 2 mesh pockets in the seat for baby. If you're looking for the best jogging stroller around, take a closer look at the Bumbleride. Jogging is what it was made for.