I hope you find my posts informative and helpful. Just so you know some links in this post may be affiliate links. For more information review my Privacy Policy.
Your adventures on the trails don't have to end when you have a baby. You just have to adapt. Three wheel baby strollers are a great way to travel with your little one over bumpier terrain or anywhere that you want a little more control when you're walking.
Why is a three-wheel stroller better? They have wheels and tires that are designed to handle rough terrain, and they're much easier to handle and maneuver. Although most jogging strollers are three-wheeled, not all three-wheeled strollers are for jogging.
We included a variety on our list of the top 5 best three wheel stroller for 2019, each with additional features, such as adjustable handlebars, car seat adapters, and fold joggers with one hand fold.
Why Having a Jogging Stroller Is a Good Thing
After pregnancy, many new moms may feel the need to get out there and start their exercise routine again, or they may just want to spend some time outside with their baby enjoying fresh air on a walk. A jogging stroller is an easy and even cost-effective way to get active following pregnancy while allowing your little one to be a part of the new routine.
Most joggers or three-wheel strollers and travel systems are equipped with larger pneumatic (air-filled) rubber tires. These larger tires can move over even rough terrain easily and without the stroller feeling every shock and every bump along the way.
Traditional strollers typically come equipped with plastic like wheels that cannot effectively reduce shock and are definitely not suitable for running.
The suspension system of these strollers is also better than that of a traditional stroller and allows for less stress for the baby on a jog. The rear suspension and sling style seat that many of these joggers have allows for motion absorption while jogging.
Choosing the Best Three Wheel Stroller
There are several things to consider when finding the best three wheel stroller for your needs.
Five Point Harness. This is important for the safety of the baby. This kind of harness goes over the shoulders, across the hips, and between the legs offering much more protection for baby on a jog.
Safety Tether. This is a safety strap this is attached to one end of the stroller and the other end is wrapped around your wrist. This provides another level of protection for your baby while you are out jogging.
Canopy. To protect the baby from the sun and the other elements, a canopy is ideal. The larger the canopy you have, the better protection it offers against the sun, heat, wind, and even a light shower.
Folding Mechanism. You also want to find a stroller that is easy to fold and compact you're your storage space. Joggers and three wheel strollers aren't typically small in size, so you must keep in mind that they will most likely take up more space than a traditional stroller.
Cup Holders. While it doesn't seem like this is an absolute necessity to have, you will find that it is quite useful and convenient. However, if the cup holder is too shallow, there is a risk of liquids or items falling on baby. Be very cautious when choosing a stroller that has cup holders. They should be no less than three inches in depth if you want to try to safely accommodate a water bottle.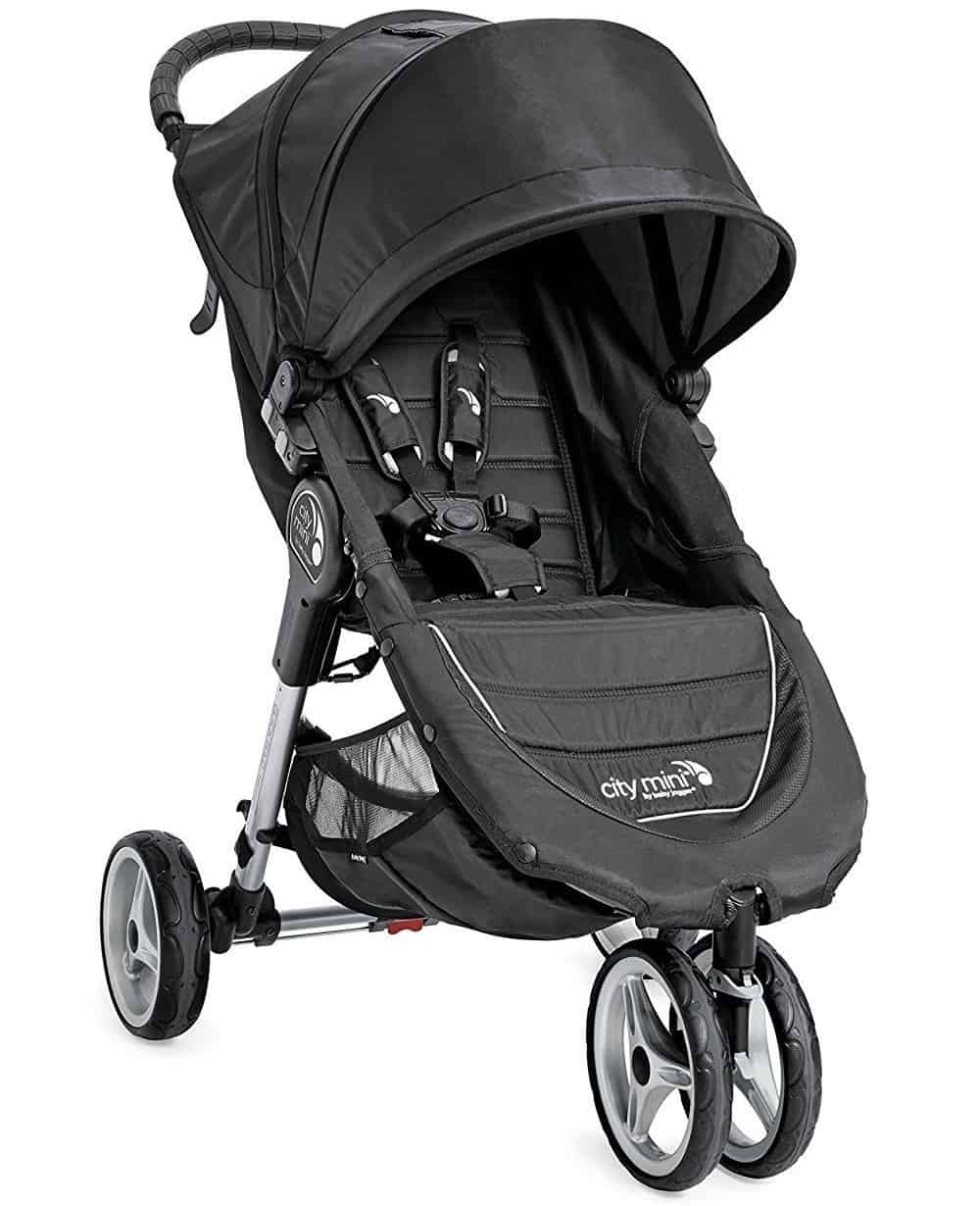 This is a 3-wheel stroller that consistently gets great reviews, and it's not very hard to see why. One of the best things about it is that you can use it starting with a travel system from birth all the way up to 65 lb. This could very well be the only stroller you need!
The seat is roomy and comfortable, and it has a huge canopy to protect your little one, come rain or shine. This stroller is so easy to maneuver, and you can push it around with one hand, thanks to the forever-air tires and front-wheel suspension. The handle is also adjustable from 30" to 42" which is great if you're tall and have a hard time pushing an average stroller.
We have to say that this isn't a jogging stroller. It's an awesome stroller for everyday use, but it's not designed for heavy trail running or anything like that. You can fold it with one hand while holding your little one in the other. When you do fold it, it's very compact and will easily fit in the trunk of your car.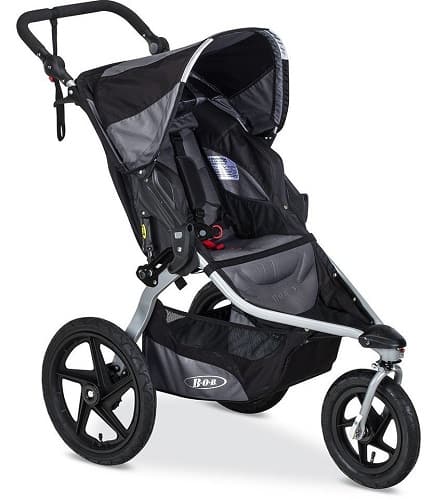 Now, this is a stroller made for jogging. For starters, you can convert this into a travel system if you get an infant car seat converter. Then you'll be able to use it from birth right up until your child weighs 75 pounds. This stroller maneuvers really well. The front wheel reacts really quickly.
There's a large canopy to protect your little one from the elements when you're hitting a trail or just walking around town. It also has a deep recline in case someone wants a nap. And get this—one of our favorite features has to be the handlebar adjustment.
There are 9 different positions to choose from, making this the perfect stroller for both tall and short parents. The air-filled tires and suspension system let this stroller go off-road without a problem.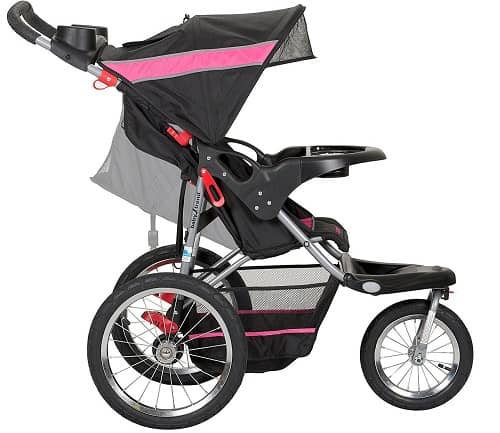 One of the cool things about the Baby Trend Expedition is that any Baby Trend car seat can fit right into the frame. If you already have a Baby Trend car seat or are currently looking for a system, this is definitely something to keep in mind. If you don't have compatible car seats, you can still use this stroller when your baby reached 6 months up until they weigh 50 pounds.
The seat has an easily adjustable one-hand recline. There's a canopy that you can reposition, so you'll always be able to keep your little one out of direct sunlight. There's a tray for your little one, which comes in handy for snacks or little toys to keep her busy.
Plus, there's a try for parents, too, that has 2 large cup holders and a small console. It has large bicycle tires to handle a variety of different terrain plus a swivel front wheel that locks when you want to jog.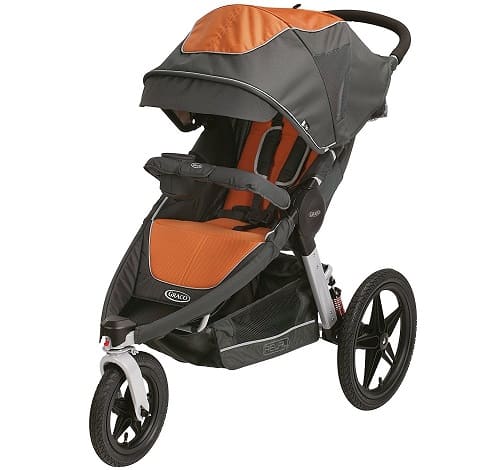 If you're in the market for a three-wheel stroller that is loaded with any feature you can possibly think of, take a closer look at the Graco Relay Click Connect. If you have a Graco Click Connect car seat, it will attach right to this stroller, so you'll be able to use it even when your baby is brand new. This stroller has a premium suspension that performs well on a variety of terrains.
It comes with pneumatic tires and a locking front swivel wheel, so it's ready to go jogging when you are. As for your baby, the premium fabrics are breathable and even have reflective piping for when you're running at dusk or dark and need to be seen. The seat reclines and has convertible 3 and 5 point harness.
The large canopy not only provides protection from the rain, but it also provides UV protection. There are some nice extras here for mom and dad, too. The parent console has a cup holder, phone pocket, and zippered storage bag, so you have plenty of room to put all of your personal items when you're out on a run.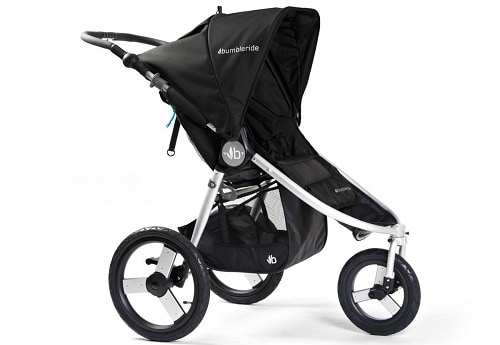 If you're a serious jogger and want a top of the line three wheel strolled to get back into it after that baby comes, this is one of the best out there. This top-of-the-line stroller is packed with awesome features. First of all, it has all-wheel suspension and 3 large tires that are filled with air.
The front tire even has 3 different lock modes to choose from. The seat can hold babies from birth up to 65 pounds. That means you'll be able to use this stroller for a really long time.
There are a lot of comforts for baby, too, like a large canopy, deep reclining seat, and even a bassinet that you can buy separately so you can actually jog with your newborn. The fabric is made of recycled materials but still feels soft and comfortable.
There's a lot of storage, too, including a zipper pocket and 2 mesh pockets for mom or dad and 2 mesh pockets in the seat for the baby. If you're looking for the best jogging stroller around, take a closer look at the Bumbleride. Jogging is what it was made for.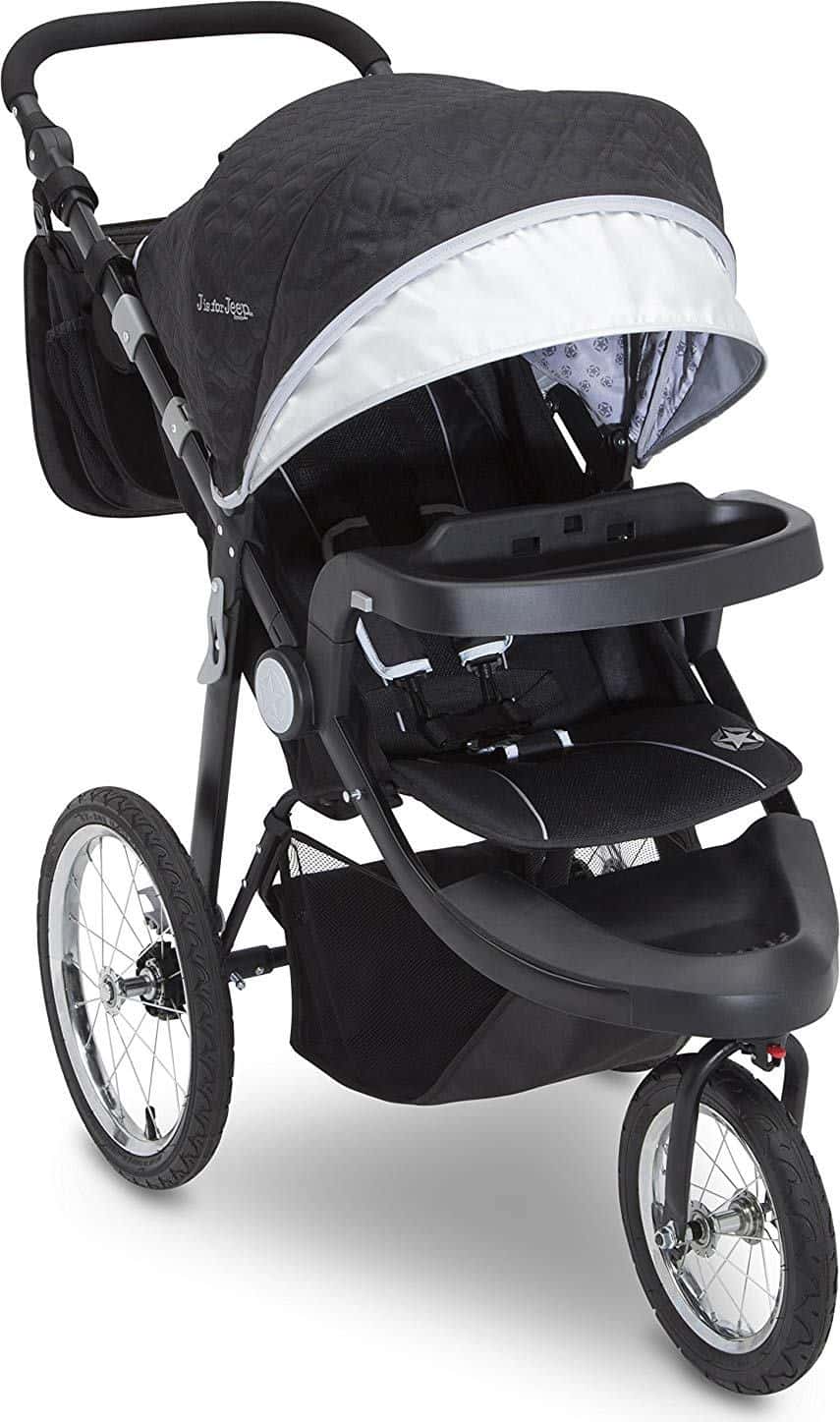 This three wheel stroller is definitely a contender when it comes to finding the best quality and most durable stroller available. It features an extendable, quilted European canopy. It has a sun visor and a peek-a-boo window as well so your little one can have fun looking at everything the world has to offer.
Its undercarriage offers ample storage capacity so all the essentials can be easily stowed away for any adventure. It also features a durable steel frame with high-quality tech fabric, so you know you are only getting the best. It has two cup holders and the storage compartment is covered.
With its multi-position reclining seat, five point safety harness, and padded shoulder straps, you know your little one is both safe and comfortable.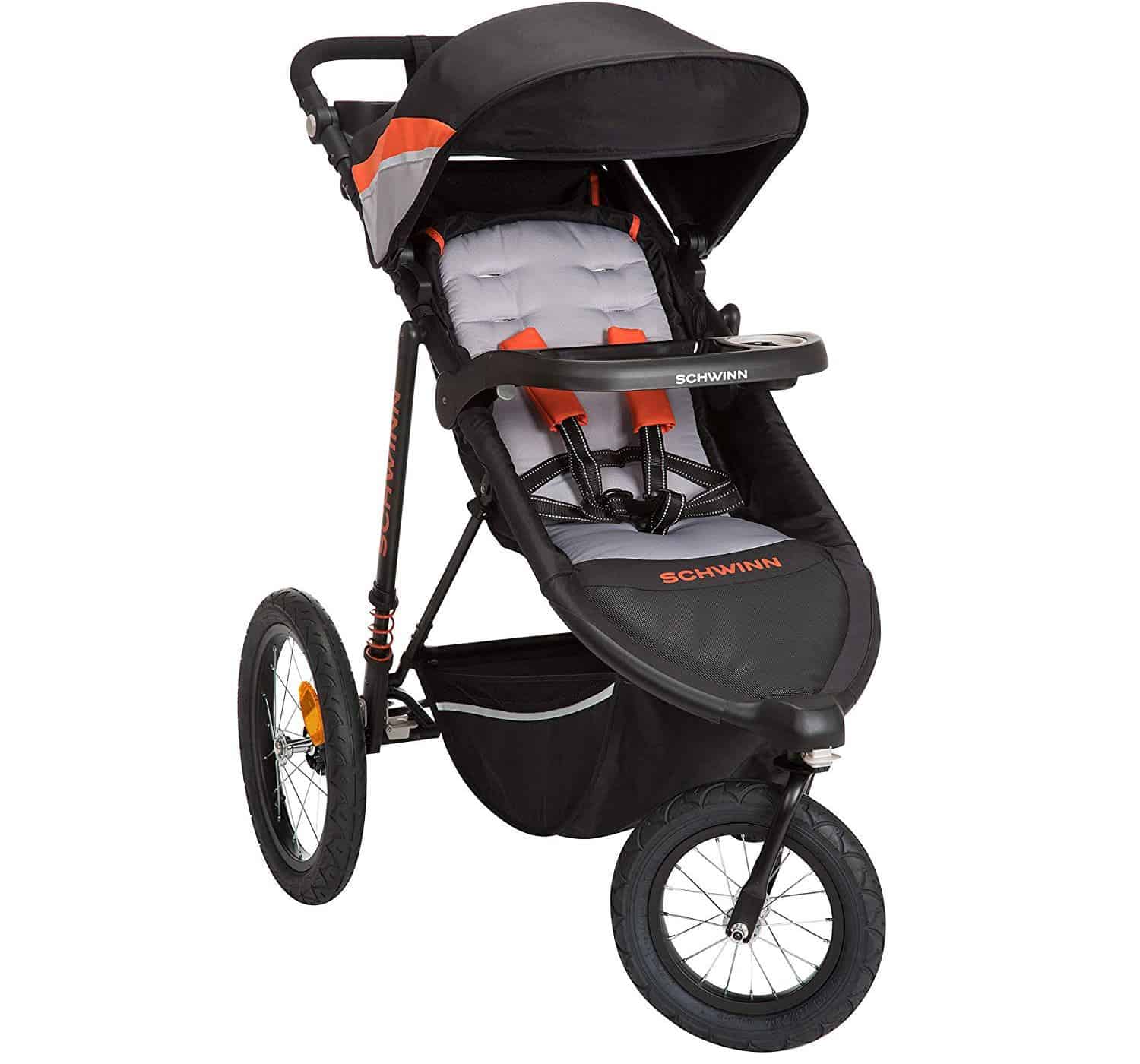 This stroller is great for a jog and then easily converts to a conventional type stroller with a swivel wheel in the front. This allows you more freedom and a better workout while being able to take the baby along for the ride. Its other features, such as its performance shocks, polished wheel bearings, and air-filled bicycle tires further speak to its high-quality design and construction.
The UPF 50+ rated canopy keeps your baby out of the sun while you are out exercising. Need to hydrate? This stroller comes equipped with two cup holders and an extra-large capacity basket with a lid so you can easily store your water and other essentials while you are on the go. There is also a front tray with a stable surface that provides the perfect spot for a snack and drink for the little one.
This stroller can also fold down for compact storage easily and quickly, which is also a major convenience when it comes to having to store the stroller when not in use.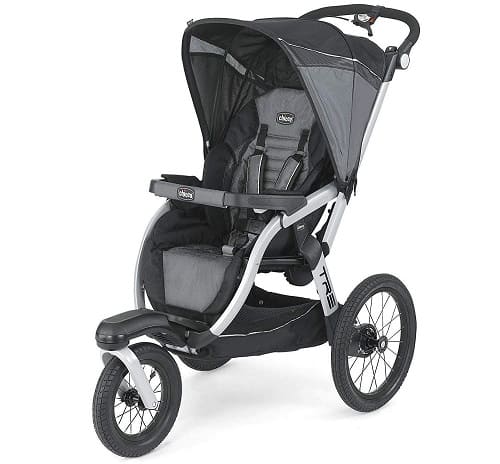 This three-wheel stroller offers you the best value for your money. It features a removable seat that allows the option of converting the stroller into a car seat carrier. The fabrics used in its construction can easily be wiped down. They are also very durable and water repellant.
It includes a full-coverage and extendable canopy with a flippable tinted window and mesh vent. It is easy to fold with just one hand and can be self-standing, flat folded, or compact folded depending on where it will be stored when it is not in use.
The stroller seat and the backrest both detach very easily in just one piece along with the canopy leaving you with just a frame stroller that is extremely lightweight. The five-point harness allows room to grow with the baby, and it also boasts of a multi-position backrest to allow ultimate comfort and security.
Final Thoughts
With so many three wheel stroller options available on the market today, it may be a bit overwhelming to narrow down the choices and find the best stroller for your needs. However, as long as you keep your lifestyle and your goals and needs in mind, you can effectively narrow down the choices.
Remember, the wheels are one of the most important features of a three-wheel stroller. Swivel front wheels allow for more maneuverability and easier navigation if you find yourself needing to navigate crowded or tight areas.
You may also find that some strollers with a locked swivel front wheel aren't as stable as those with a fixed front wheel. It is best to determine your needs and where you will be using the stroller the most to help determine which features would be best.