I hope you find my posts informative and helpful. Just so you know some links in this post may be affiliate links. For more information review my Privacy Policy.

Last updated: 19 December, 2015 | By Lauren
Are you looking to buy a new baby pram or stroller? Do you need some advice on how to choose the right pram for you?
Good - you have come to the right place. 
You know, finding the perfect pram isn't really that hard.
But here is the thing:
You need to do a little bit of research.
When I first bought my Bugaboo Bee, I didn't read any buying advice. Instead, I simply bought the pram my close friend suggested, that apparently was the pram "everyone had". I am not unhappy with the choice but I could have done some research and found one that was a little easier to fold. I have learned so much since and I don't want you to make the same mistake and go off and just buy any pram.
So here is what I have done for you:
I have consider all factors that will influence your decision and categorised them in order of importance. In this guide I will share with you everything you need to know to pick the right pram from day 1.
» Whatever it is YOU need, this guide will help you identifying those essential key factors that make choosing the right pram much easier.
TL;DR - If you are short of time you can start with this 30-seconds guide and come back to read the full guide later.
The 30-Second Guide
Step 1: Pick a type
- Decide whether you need a pram, pushchair or stroller
- Choose between a single or tandem pram (depending on no. of children)
- If you travel a lot, buy a travel system
- If you want to use the same pram for many years, buy a 3 in 1
- Consider the pram's weight, size, folding mechanism, and versatility
Step 2: Decide how much you want to spend
New good prams range from under £100 to way over £1000 - all with different pros and cons. Expensive isn't always better!
Step 3: Pick a best seller
If in doubt, choose one of the best selling prams
Before we dive into the details, here is great video from http://www.casualplay.co.uk/ where they list some of the important things to look for when picking the perfect pushchair:
If that didn't help you decide, and you have a little more time to explore all the various aspects of choosing a pram, please continue to read the full guide on how to choose the perfect pram.
Table of Contents
Define Your Needs and Plan Ahead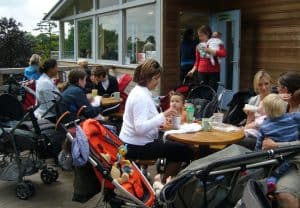 Being a City Mum, my needs might differ slightly from someone living in the countryside. However, everything I have listed below should help you in deciding what is crucial for you and your baby (or babies) and I have tried to be as objective as possible. 
When my son was only a few weeks old I started taking him out for walks. I had read that making your baby sleep in a pram could be hard in the beginning so I made sure that the pram I bought had a comfortable cot. I was happy with my choice; my son was noticeably content and could sleep almost as well as in his own bedroom cot.
Pram comfort is very important. If I would pick one thing that stands out as the absolute most important aspect of choosing the right pram for a newborn, I would say the comfort of the baby. An infant needs to sleep well even when you're out and about and a pram should offer a quiet, steady ride and be comfortable enough to sleep in.
Will you be moving around a lot? The first few weeks, especially when it's your first born, you probably won't be travelling extensively or spend a lot of time on buses or in the tube (due to bacteria, noise, etc). Personally, when my son was asleep in the pram I found it stressful enough to have just a coffee with a friend in a café. I was worried about someone bumping into him or sudden loud noises.
So, if you are anything like me, you are likely stay within walking distance of your home and you won't care much about the weight or look of your pram. You won't care about details such as whether your pram has a lot of storage or can fold quickly or not.
That being said, these details will matter a lot later on. Therefore, try to plan ahead as much as you can and think about what kind of lifestyle you will have.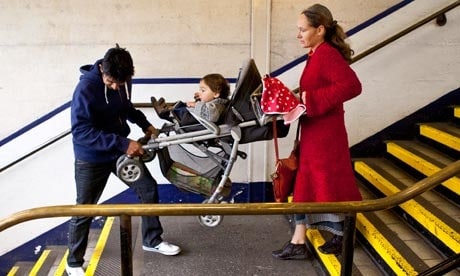 As an example, you might not know whether you are going to have another child in which case it would be better to keep your options open and buy a convertible tandem pram. I had already taken most of these decisions before I gave birth, but life can be unpredictable and you might find yourself moving country 7 months into your pregnancy.
My advice? Who knows what the future holds? The better prepared you can be, the easier it will be for you and your child.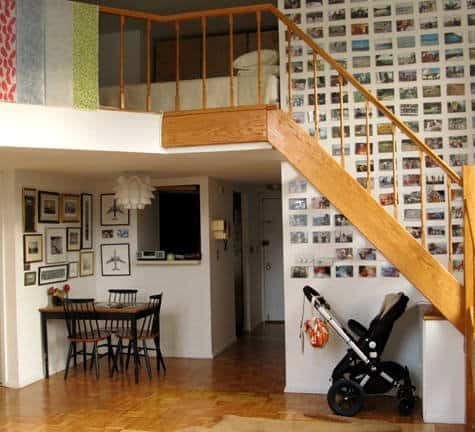 Also, consider where you are going to be geographically. How much storage space you are going to have at home? Will you be travelling by public transport, by car, or perhaps not at all?
Ignore the advertising and find your fit
Not all prams can be the best for you.
How could they?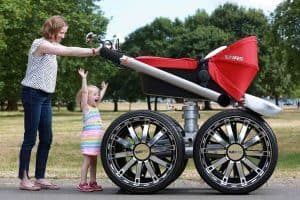 The trick is to filter out the noise and focus on what matters to you. If you are a famous person you might want to look into a pram with a Paparazzi shield to protect your child. Perhaps you have twins and need a tandem pram? Or, maybe you are always flying and need one that fits in the overhead compartment.
Btw, there are only two models on the market today with that feature. Do you know which ones they are?
Read on to find out.
When is the right time to buy a pram?
Buy sooner rather than later. Once you know where you will be geographically and, more or less, how your life will be in general when your baby is born, then it's time to start looking for a pram. Don't wait until the last moment as you will be preoccupied with other more crucial things. Taking care of a newborn baby takes a lot of energy and the last think you want to do is sorting out stuff that you could have taken care of before.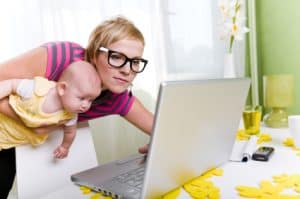 Consider where you are going to be geographically, how much storage space you are going to have at home, and whether will you be travelling by public transport, by car, or perhaps not at all.
Pram, Pushchair, Buggy, Stroller - What's the difference?
These terms are used quite inconsistently so, firstly, let's start with clarifying their meaning. After doing extensive research for this post I believe I have found the most accurate description. In short,
» A Pram is for newborn babies
» A Pushchair for when your baby is a little older and can sit up
» A Stroller is suitable for toddlers and young children
» A Buggy is a word used when referring to either a pushchair or a stroller
Aesthetically, though, all models on the market today stem from either a pram or a stroller:
| | |
| --- | --- |
| Pram | Stroller |
| | |
all other types are simply slight variations:
| | | | |
| --- | --- | --- | --- |
| 3 Wheels | Jogging |  Light Weight | Coach Built |
|   | | | |
There are also convertibles and combinations of two or more models:
2 in 1

3 in 1

Travel System

- Convertible pram and pushchair unit
- Detachable pram unit
- Detachable pushchair unit
- Detachable pram unit
- Detachable pushchair unit
- Detachable car seat
And finally, models with multiple seats and tandem models:
| | | | |
| --- | --- | --- | --- |
| 2-seat | 3-seat | 6-seat | Tandem |
| | | | |
Now that we have identified all the types of prams on the markets we are ready to move on to the next step where we try to find the perfect match for you and your baby.
Choosing Your Perfect Pram - 7 Factors to Consider
I have narrowed it down to 7 crucial factors that will influence your pram purchase. 
Let's start with the most obvious one:
#1: Your Child's Comfort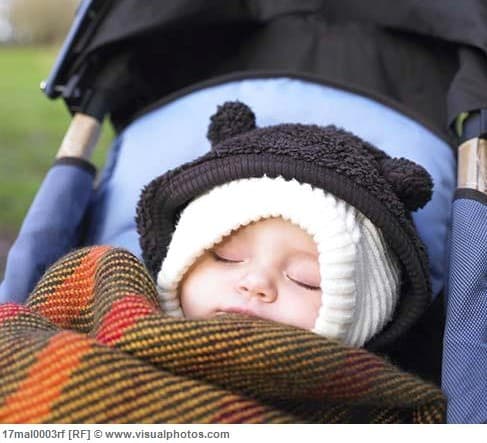 Make sure you have a comfortable seat
If your newborn is going to spend a lot of time sleeping in the pram you will need a surface that is firm yet comfortable. According to The health professional's guide to: "Caring for your baby at night"  that you can read on Unicef's website, it's important that you "use a firm, flat mattress in the baby's cot". I think we all knew that but it's easy to forget just how important it is for an infant to sleep comfortably and on the right surface.
The pram needs to be suitable from birth which means that seat needs to fold down completely flat. This is not only because it's more comfortable to sleep this way but, more importantly, because your baby can't support his own head and needs to lay flat in order to aid his spinal development.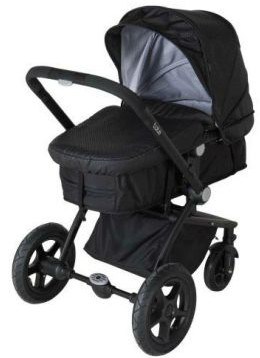 Unfortunately, it's a little hard to know for sure as we can't ask our baby. Instead, you will have to rely on your touch and common sense. There isn't a whole lot to read online about the comfort of prams but there are two brands I found that all make a point to state that their pram mattresses are well padded:
1. Mothercare MyChoice
2. Silver Cross Pioneer
Shall I use a carrycot or not?
If you want to buy a carrycot that you can also use as bed for your baby, make sure to check with the manufacturer if it's actually suitable for sleeping in or whether you need to buy a separate mattress for the pram. I wouldn't recommend using the carrycot as bed because they simply aren't as comfortable as a real baby mattress.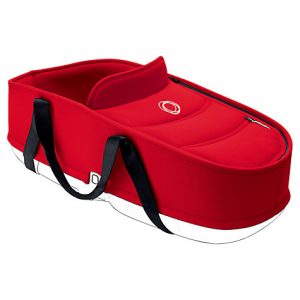 You can use the carrycot as bed, of course, if you are travelling. Fortunately, there are a number of good travel systems that have made their carrycots as comfortable as possible.
And that's worth looking into:
When my son was newborn, the only time I could truly relax when stuck on an airport between connections (without my pram) was when he was sleeping and I sometimes which I had a carrycot that I could have taken with me. Instead, he had to sleep in my lap.
The sun canopy needs to block out the sun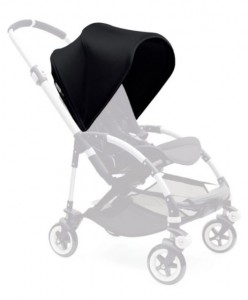 Almost all prams come with a sun canopy as standard. You need to check that it's adjustable and can unfold forward fully to block out as much light and noise as possible.
IMPORTANT: Avoid using a blanket as it can block the air out.
Make sure the canopy folds all the way back for when your baby is awake and wants to see the sky (and your face of course).
The best canopies have 3 or 4 folding stages so that you can adjust it according to what your baby needs. For example, when your baby is waking up you can decide how much sun you want to let in to not blind him. And when he is asleep you should be able to open it up all the way to block out as much light as possible.
Buy a pram that comes with a canopy as standard. Some manufacturers sell an upgraded version of their canopy separately (Bugaboo is one example). So, finding a pram with a good standard canopy can save you money. The extended sun canopy that fits with my pram costs £60!
The material needs to be thick enough not let any sun through. It should also have UPF 50+ (Ultraviolet Protection Factory) blocking. The sun-block will not only protect your baby from dangerous rays but also help you immensely when trying to make your baby sleep.
| | | | |
| --- | --- | --- | --- |
| UPF Range | Protection Category | Effective UV-R Transmission (%) | UPF Rating |
| 15-24 | Good | 6.7-4.2 | 15, 20 |
| 25-39 | Very Good | 4.1-2.6 | 25, 30, 35 |
| 40-50, 50+ | Excellent | Less than 2.5 | 40, 45, 50, 50+ |
Source: http://www.rei.com/learn/expert-advice/sun-protection.html
Shock-absorbing tyres
Air-filled wheels gives a smoother, less bumpy ride. This is especially important on rougher terrains. These wheels require some maintenance, however, and you have to replace the tubes if they break. I would still recommend these type of wheels as they are unlikely to burst - unless of course you participate in something like the Hartley Wintney Pram Race. Some prams also have wheel suspension which, together with air tyres, absorb enough shocks from even the roughest roads. If you notice that your baby still doesn't sleep well, try putting a folded blanket underneath him as an extra shock-absorber.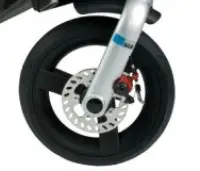 Worth mentioning, however, the comfort of your baby matters a lot but only in the first few months.
As soon as babies are a little older and can sit up by themselves, in my experience, babies don't really complain much - they are simply too busy looking at their surroundings to care about whether their seat is soft or not.

That being said, we do care about our young ones (too much sometimes?) and want to give them the best of everything, and the pram shouldn't be an exception.
Now that we have identified one important factor, let's look at the mobility of the pram.
#2: Mobility and Usability
I have used my Bugaboo Bee in central London for over 2 years now and I have realised just how important it is to invest in a pram that is easy to maneuver, that doesn't take a lot of space, and that can be stored easily.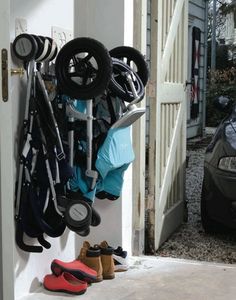 When choosing the right pram for you, think about your surroundings and lifestyle.
Start by asking yourself:
Where you will be storing the pram?
Where you will go and spend the most time while away from home?
Will you be travelling by car or public transport?
With the above questions in mind considering the following:
– general size
– folding mechanism
– weight
– road surface
– number of wheels
– the prams versatility and adjustability
– the handles
Let's go through these one by one:
General size
Naturally, the bigger your pram is the harder it is to maneuver in small spaces. If you are not planning to travel at all during the first 6 months, or only by car and your car is HUGE, then you have nothing to worry about. However, most of us will have limited space both at home and while travelling and need something small and compact.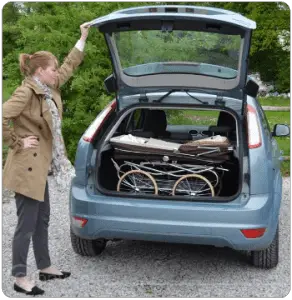 One of the smallest pram on the market is the Babyzen YOYO with a width of only 44cm across. When folded it is fully compliant with IATA guidelines for cabin baggage dimensions (56 x 46 x 25 cm) - this means that this pram is so small you can bring on the plane. As hand luggage!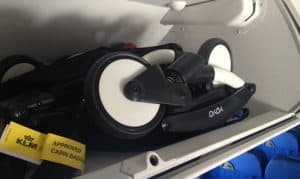 Keep it under 60cm wide. Most prams are a little wider than the YOYO, around 55-60cm, so my recommendation is to try to stay within 60cm of width to be on the safe side. Worth considering as well is the size of the boot of your car as well the storage cabinet (or width of the hallway).
Folding mechanism
Apart from a coach built pram, most prams can be folded fully. If you travel a lot or have limited storage space, it can be worth compromising a little bit on stability and buy a slightly smaller pram that folds neatly and takes little space.
The best folding mechanism for a pram is the one-handed fold which you can find in prams like the Babyzen YOYO and the City Mini GT.
The one-handed fold system is much better system than the one on my Bugaboo Bee where you need to use both hands AND usually a foot and yet not save a whole lot of space while it's folded. Especially if you use the storage basket underneath: its content will prevent the pram to fold fully.
It looks really easy in the video because the pram is empty.
In reality, when you have 2 seconds to fold it while your taxi is waiting and you hold your baby in one arm, you can't fold the seat forward first and you will fold it as quickly as you can - this requires your whole body to work.
Bottom line is, make sure your pram can fold easily and reduce its size significantly when folded. And watch those fingers!
Weight
Lighter is better. Pram manufactures have learnt that the weight of the pram can be a deal breaker for most mums. You will be moving and lifting your pram a lot, both with and without your baby inside, and your pram needs to be light without compromising on stability.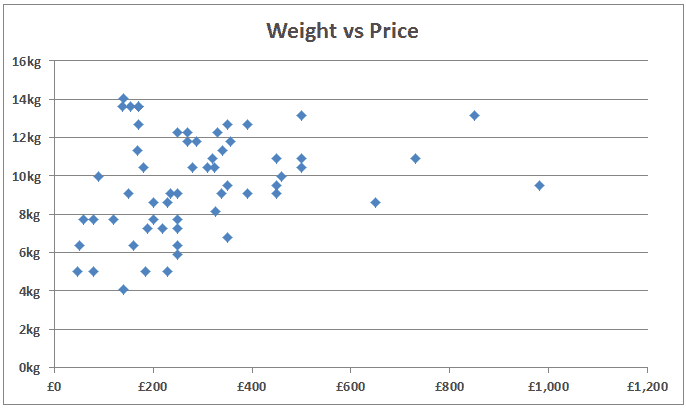 Light prams are not more expensive. To understand the relation between weight and price I looked at over 100 prams and put this graph together. As you can see, quite surprisingly, light prams aren't necessarily more expensive. Look for a pram in your price range and pick the lightest one. The lightest pram usually have a aluminium chassis that is both light and sturdy.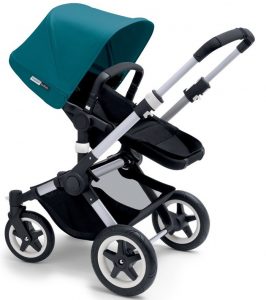 Make sure you try the pram before you buy it. There is no useful data published on how stable the prams are and you will need to asses this manually. You can do so by rocking the pram back and forth to get a feel for how solid the frame is. Another good way to test this is lifting the pram from two ends (with the help of a shop assistant or your partner) or take the pram down a set of stairs.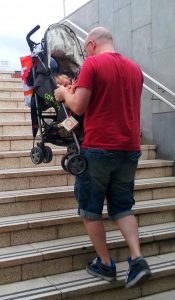 Keep it under 10kg. I would recommend buying a pram that weighs no more than 10kg, especially if you live in a city like London where the underground only has wheelchair access on a selected few stations. I have had to carry my baby AND pram up many sets of stairs and that's not fun at all, even if it's just for a few steps.
There are of course many light-weight options on the market but most are strollers or not made for newborn babies. When your child is old enough to sit up on his own there will be a range of light-weight strollers to choose from - the Maclaren Globetrotter weighs only 5kg! However, a steady 4-wheel pram usually weighs around the 10kg mark, which is OK.
Personally, I prefer using a steady pram even if it weighs a little more. In the end, you will have to compromise and find the right balance and consider all aspects in this list when choosing the perfect fit for you and your baby.
If you find yourself in front of a long set of stairs, fret not, there is almost always someone there to help you and you won't need to do the carrying by yourself.
Road surface
Are you going to use the pram mainly on asphalt? If so, aim for small wheels no bigger than 6". A city pram doesn't need big wheels because the road surface will be flat. Obviously, the bigger the wheels are the more space the pram takes.
On the other hand, If you live in the countryside you will need to pay close attention to the wheels. I recently took my Bugaboo Bee to Brasil and I regretted that every moment of my holiday. The wheels got stuck in the sand and it felt like pushing on of those blocks of weight you see in the gym.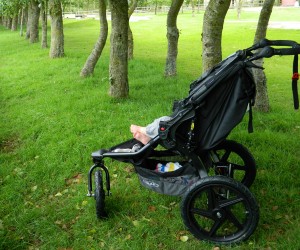 The fact of the matter is: if you are pushing your pram on a road that is not perfectly flat tarmac or asphalt, you are going to need bigger wheels.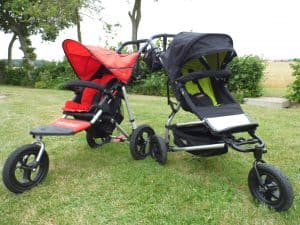 One of the best off-road prams is the 3-wheel Out N About Nipper 360 off-road buggy. This pram is rated on which.co.uk where it scored 5 on all test criteria! Some of these 5-star ratings are considering its maneuverability on uneven road surface specifically: kerbs, stairs, and rough grounds. So, if you are a country girl, this would be safe choice.
3 or 4 wheels
This again depends on where you will be using the pram. 3 wheels are popular among people living on the countryside or who need a pram that works well on uneven surfaces. A mum on babycentre.co.uk commented that "our town is cobbled, so a 4 wheeler would be a nightmare" and the main reason for choosing a 3-wheeler is to be able to maneuver it easily, regardless of the road conditions.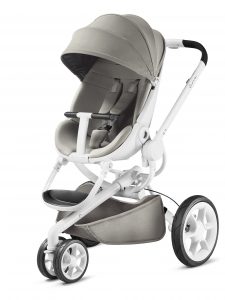 There are 3 wheel prams with 4 wheels (!). If you want a 3 wheel but are concerned about the stability, there are prams that are sold as 3 wheel prams even though they actually have 4 wheels. A good example of this is the Quinny Moodd which has a narrow frame in the front, just as a 3 wheel, but the two front wheels are placed closely together giving the feel of a 3 wheel, giving it a little more stability.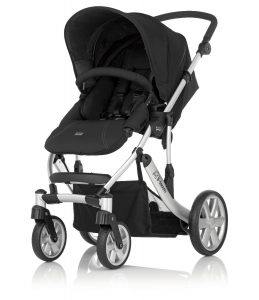 There are also 4 wheel prams that use large rear wheels to make the ride a little smoother. One of the best ones I have tried in a shop myself is the 12kg heavy Britax B-Smart 4 Pushchair that comes with puncture resistant tyres (quite a promise!) and wheel suspension.
Again, the best way to know is to give the pram a test run. If possible, ask the shop assistants to take it outside. When I asked to do so myself in one of the shops in northern London, the girl working in the shop refused. I then asked to speak to the manager and explained that "If I am going to spend over £700 for a pram, I need to try it before" - luckily he agreed.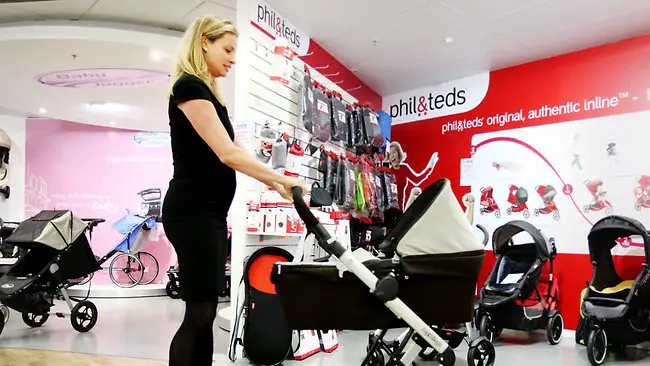 And thinking about it, we are talking about making quite a big investment here so know your rights as a buyer and don't forget that you can always return the pram if you are unhappy. Hopefully this guide will help you in making the right choice and avoid that kind of situation.
Versatility and Adjustability
I am going to be honest here: you will need a pram with a reversible seat. This is because your baby will quickly go through the three faces:
Face 1: Sleeping in the cot, seeing only the inside of the pram
Face 2: Sitting upright, facing you
Face 3: Sitting upright, facing forward
Needless to say, you don't want to buy a new pram for each face and you therefore need a pram that covers all three. Although, I have to admit I do have one extra stroller that I bought when I went to Sweden once. I only bought it because we thought we didn't need a pram but quickly realised we were so wrong. I now use this stroller for shorter trips or when we have limited space but I couldn't have used it for face 1 and 2.
QUICK TIP  » Buy a cheap spare stroller as backup for short trips or to keep in the car
The more adaptable the pram is the better. So, make sure you can adjust the
- handle height
- seat inclination
- tightness of the harness
- position of the belly bar
- seat direction (for 2 in 1 and 3 in 1 type of prams)
The most versatile prams are the travel systems, or so called all-in-one solutions. These prams are meant to function in any given situation outside your home when you are on the move and come with a car seat and pram/pushchair unit.
They are little clumsier than your normal pram but have many advantages.
For example, a good travel system, like the Vegas 3 in 1 spinning here above, allows you to clip the car seat directly onto the chassis without having to move you baby and wake him up. You CAN do that on a Bugaboo Bee too but you would need to use a Maxi-Cosi car seat adapter.
However, manufactures try to keep the travel systems as light small as possible and therefore sometimes need to compromise on things like seat inclination and adjustment of rear-adjusted harnesses.
Pay close attention to these features as they are easily overlooked.
Comfortable handles
A comfortable grip is essential. Make sure to buy a pram with soft grips or handles because the plastic handles on some cheaper prams will hurt your hands after a while.Also, when you try the pram, pay attention to the way the handle is angled to support your natural wrist position.
QUICK TIP  » If the pram you want to buy has uncomfortable handles (but is otherwise perfect) get some Bar Grip Sleeve Covers from CityGrips (10% off if you buy it through busycitymum.com)
#3: Maintenance and Durability
Maintaining the condition of your new pram is very important. Firstly, it will last longer. Take good care of your new pram and you will be able to either sell it when you no longer need it, save it to use with a younger sibling, or pass it on to a friend or family member.
Secondly, a pram that is well looked after is safer. As an example, an unwashed seat can rot and expose sharp edges, a rusty harness can snap and cause your child to fall out, and so on. Below you can read more in detail about the safety of the prams.
You can limit the amount of service needed by keeping the pram clean. If you have chosen the right pram for your environment, you shouldn't have to spend too much time on maintenance at all.
QUICK TIP  » If you are choosing between two prams, search forums for comments on how to clean the pram. If your pram has issues, you will quickly find out about it online
Pushchair brands don't want you to think about this part too much so it's up to you to know what you are buying. Therefore, I suggest to check the following:
Is the fabric completely removable? See if the fabric is easy to remove and put back.
Is the fabric machine washable? You don't want to wash it by hand. Also, check if you can use a tumble dryer or not.
Can the moving parts be removed and cleaned? If not, would you be able to clean them with a vacuum cleaner or damp cloth? Make sure there are no parts that can rust.
Does the brand provide clear instructions on cleaning and general maintenance? There are many moving parts, some that need to be disassembled (such as the wheels, axels, bearings, suspensions, etc) and not all of us are handy enough to know what bolt goes where or which spray to use for lubrication, etc.
Air filled tyres: does the pram come with a replacement kit? Or are these sold separately (if at all).

Just as a with car or bicycle, during the usual day-to-day use your pram will be exposed to the elements. The easier you can keep it clean, the longer you will be able to use it without having to replace any fabric or moving parts.
When you buy a second hand pram, the first thing to check for is how well it's been taken care of and I will cover more of that in the safety section below.
#4: Style
Travel in style. If  you have decided not to go for the cheapest option but instead find a pram that will suit all your baby's needs as well as your own, you wouldn't want to choose an ugly pram, would you? There are prams that are functional, durable, light, that also look good. You can quite easily see when the manufactures put a little extra effort into the design and style - those are the prams we want.
It's all down to personal taste but the below do look better than the average and are worth checking out.
Bugaboo Cameleon 3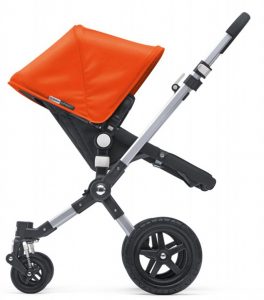 This slick-looking designer pram from Bugaboo is yours for £800. It's light, compact, suitable from birth to toddler, and even has adjustable wheel suspension. Personally, I like it merely because it looks really good!
Cam Fluido Teddy Buggy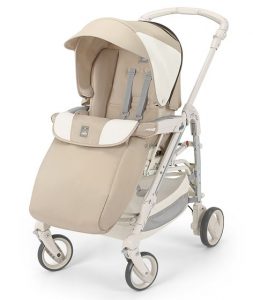 Winner of the Best Product award Hong Kong Baby Product Fair 2014, this "girly" buggy has a little bit of a Japanese look to it. It weighs just under 10kg, comes with a carrycot and car seat, reversible seat, and cost only around £370.
Mutsy Igo Pure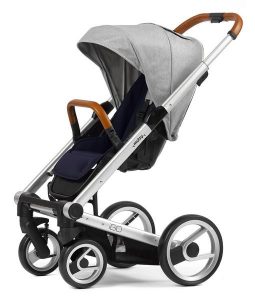 I absolutely love this pram! It's equipped with air chamber wheels for a bump-free ride, protective play-bar and adjustable foot rest. But all that would mean nothing if it wasn't for the brown leatherette handles - so chic.
Inglesina Classica Pram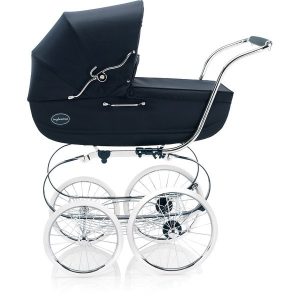 This elegant coach built pram, with its refined carrycot embroidery and chrome finish, is one of my favorite coach built prams. It's perfect for those of you who, like me, love the everything stylish and classical. It's a little impractical and pricey (£700) but it goes well with a £8.50 Notting Hill latte.
Babyzen YOYO 0+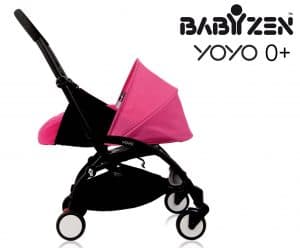 This pram is not only tiny, as I mentioned above, but it's also pretty. It almost looks like a toy pram. In terms of cost, it's placed on the lower end at £375 and comes  in grey, blue, red and pink. Read more in the review of the Babyzen YOYO.
In addition to these, there are some crazy designs on the market for those of you who aim to use your pram to make a proper fashion statement.
How about this Mercedes-Benz style pram, Abeo, which design was inspired by the deep ocean creature, Cephalopoda Nautiloidea, to give a still-in-the-womb type of experience: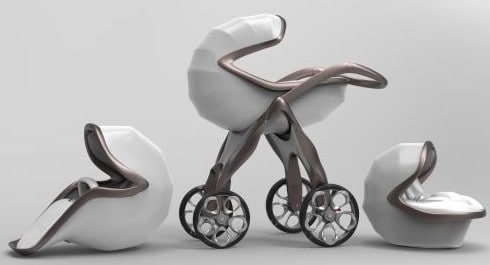 Or this one, the Babyoom, which can transform into a children's tricycle and shopping cart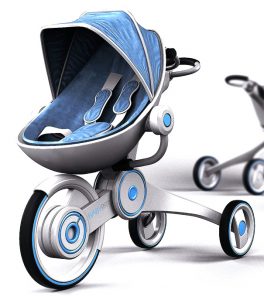 For more cool and crazy pram designs, have a look at this post.
#5: Accessories
The accessories are there to make your life easier. Although most prams come with a storage basket there are so many more things that should come as standard, but that companies overlook. Some brands have their own accessories whereas others haven't bothered with making any at all.
The funny things is that there is clearly a high demand for these useful extras. So much so that there are companies specialising in making pram accessories for other brands to fill that demand. Hopefully in the future all pram manufacturers will sell their own accessories but in the meantime look for a pram that sells all the accessories you need OR that at least is compatible with the universal products that are sold separately by other companies.
The accessories I use everyday (ticked) plus the ones I see other mums use daily, are these:
Hanging hook/clip - For your bags that don't fit in the basket ✓
Cup holder - Not only for cups but anything that you don't want in your pocket ✓
Weather shield - Usually comes as standard ✓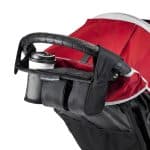 Foot muff or mitt- For cold days ✓
Parasol - For sunny days
Tray - To place toys and snacks
Satchel - To store nappies, tissues, etc ✓
Parent Console - If one cup holder isn't enough
Snooze Shade - Make sure it's not blocking out the air!
Buggy board- For older children that are too old for his own stroller
Car seat adapter - So that you can clip on the car seat directly onto the pram frame ✓
Buggy Weights - To prevent a light stroller to fall backwards when loaded heavily

If I would pick the most important ones for mothers with only one child it would be the clip and cup holder. The rest are, for me, nice-to-have extras.
#6: Costs
You can find a basic stroller for only £20 and a twin pram for up to £1300. The bad news is that there is no guarantee that you would get a better pram if you spend more money. The good news is that there are good prams in every price range. And when I say good, I mean value for money.
The best selling prams at Amazon give no indication whatsoever of a correlation between price and popularity. At the time of the writing of this guide, there is a Chilly Kids Jaguar 2 in 1 Combi Pushchair for £169 ranking first, a Chicco Liteway Stroller stroller ranking 2nd for £69. On third place I can see the Obaby Zezu Multi Pramette pram for £249. What do you make of that?
Look at this list of most popular prams from which.co.uk. I don't see a pattern here, do you?
1. Babystyle Oyster, £220
2. Uppababy Vista, £630
3. Mothercare Xpedior, £250
4. Mothercare Orb, £400
5. Bugaboo Cameleon 3, £729
6. Silver Cross Pioneer, £570
7. Uppababy Cruz, £370
8. iCandy Strawberry, £450
9. Quinny Buzz 3, £300
10. Bugaboo Bee, £395
When looking at one of the most important factors, the weight of the pram, as I have written in the Weight section above, the lighter prams are not more expensive at all. Some brands makes lighter prams without charging extra for it. Others make the weight a unique selling proposition and will charge 20% more just because they weigh 2kg less. They key is to identify what is important to you and what you are willing to spend money on.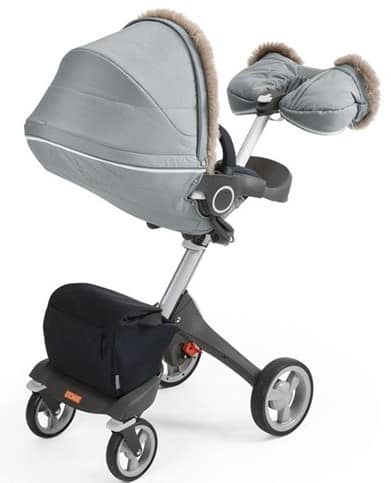 Find what matters to you the most. Is it the look, feel, size, weight, maneuverability? Only you can decide what is most important for you and I hope I have listed enough pointers in this guide to make it easier for you. Once that part is done, then you can more easily decide how much you can spend.
My tips are simple:
1) decide how much you are willing to spend and
2) figure out what kind of pram you need, using this guide, and buy the one that ticks all the boxes.
As an example, you might find that one particular pram is perfect but comes with no extra parts. These extras might cost you more than the pram itself so it would be worth buying a slightly more expensive pram that comes with the accessories you want. So maybe those extras aren't that important after all.

Buy a best seller. If you are uncertain about where you can get the most value for money, I would recommend to buy a best seller. Mums are good at spreading the word around and sharing their opinion on quality products that help them in their everyday life. Equally, if a pram is not good, it won't sell as much.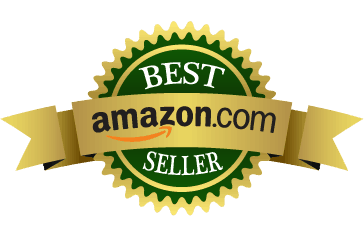 Once you know the 3-4 key factors that are key to your decision, shortlist 3 prams and aim for the sweet spot: the pram that has most of the features you want, within your price bracket.
Oh, and don't forget check the sales!
#7: Safety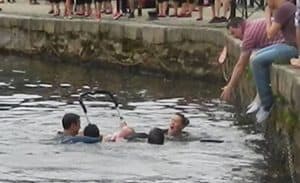 Safety first, as they say. This is especially true in a city like London where you are always surrounded by traffic and people. One small mistake, like a harness not being fitted properly, can have disastrous consequences.
Personally, I find that the foot brake and the harness are the most important safety features on a pram. Although, make sure all parts are in perfect condition.
If you are interested in knowing more about the standards set by the British Standards Institution you can visit their website here (all articles need to be purchased). There is a condensed list here with most standards related to baby accessories and when buying a new pram or accessory, make sure they conform to these standards.
What does the law say about pram safety?
Prams and pushchairs must be safe and comply with European Standard EN 1888:2012. Manufacturers and retailers have a duty under the General Product Safety Regulations 2005 to supply products that are safe. Prams and pushchairs must also comply with the fire resistance requirements of the Furniture and Furnishings (Fire) (Safety) Regulations 1988.
Even if the pram does comply with the above, there are things you need to look for that might be less obvious, especially when buying a second hand pram.
I have therefore referenced two organisations that are authorities in this subject. I recommend you to contact them or visits their websites if you have concerns about your child's safety or would like to know more about the laws that are in place to protect you as a user.
The Trading Standards Institute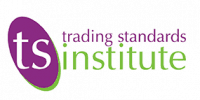 The TSI is a not-for-profit membership organisation founded in 1881 to supports and represents trading standards professionals in the UK and abroad. They have put together a guide that outlines the rights and guarantees you have as a buyer.
TO READ THE FULL GUIDE  » click here
One section is particularly relevant to this article  - "I am considering buying a pram or pushchair - what should I look for?" and I have hand-picked what I find the most important things to check:
You can read more on tradingstandards.gov.uk
The European Child Safety Alliance
The European Child Safety Alliance was launched in 2000 with the ambition to make the lives of children living in Europe safer. On their website they have published a Child Product Safety Guide which highlights the essential
TO READ THE FULL GUIDE  » click here
In this 67 page guide there a section that outlines what to look for when buying a new or used pram and I have selected the points I find the most important:
You can read more on childsafetyeurope.org
Ultimately, you are responsible for keeping your child safe at all time. Did you know, for example, that according to a study by Swedish Pediatrician Svante Norgren, covering up the pram during the summer risks the life of your infant due to a raise temperature in the pram and bad circulation of air. As explained on Children In Shadow "Without a blanket or scarf covering the pram the temperature reached 22C. A thin cover was placed over for the next 30 minutes, by which time the heat has risen to 34C. After an hour it was 37C."
Use your common sense and buy a safe pram to limit the risk for your baby.
Pick an Award Winner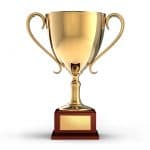 Still having troubles deciding? Reviews and awards are great marketing channels for baby accessories and prams in particular.
The question is: why not simply go with the one that has the most 5 stars, best reviews, and won the most awards? That would be make sense, wouldn't it?
Dedicated researchers, people who write for review websites, and even real mums have tried and tested these prams and chosen their favourites based on set criteria. In other words, if it's listed as number one it's a no-brainer, right?
Well, as with any award there is often more going on behind the scenes than you think. There might be politics involved - you see that often in the film industry when some films win oscars when others, obviously better films, don't. You don't know of existing business relationships or other commercial agreements that are in place that influence these list.
Also, just because a pram has won prices it doesn't mean it is the best for you. You might not know what you need (which is why I made this list in the first place).
That being said, there are two reliable lists on the web that you can trust. If you are not that picky and want to choose a pram that is likely to be good for you without making too much research, pick one of the highest listed prams from one of these two lists and you won't be disappointed. 
QUICK TIP » Test a pram from Britax or Baby Jogger - both brands are listed more than once in the award lists below and are therefore a pretty safe bet
Winners of The Best Strollers of 2014 - BabyGearLab
BabyGearLab is an American website run by certified paediatrician Dr. Juliet Baciocco Spurrier. In 2014 her team put together a fantastic list of 21 prams which they rank by how well they performed during a rigorous testing procedure that lasted 6 months (!). You can read in detail more about how they went about creating that list, but here is a short summary taken from babygearlab.com:
We defined 30 specific tests to look at key performance elements. These ranged from simple things like rating the ease of unbuckling and re-buckling baby in the safety harness, to more obscure tests like pushing them across grass, gravel, dirt, and even snow. We also performed tests to examine stability, such as tip-over tests that looked separately at sideways tip-over, front tip-over, and back-tipping
Topping the list is BOB Revolution SE partly thanks to its excellent maneuverability & smooth ride. On second place with reversible seat and large storage is the UPPAbaby Vista, followed by the easy-to-use Baby Jogger City Mini GT.
Cick the link for the full list from BabyGearLab http://www.babygearlab.com/Stroller-Reviews
1.  BOB Revolution SE
2.. UPPAbaby Vista
3.  Baby Jogger City Mini GT
4.  Britax B-Agile
5.  Baby Jogger City Mini Single
6.  Baby Jogger City Select
7.  Bumbleride Indie
8.  Bugaboo Cameleon 3
9.  Baby Trend Expedition
10. Britax B-Ready
Winners of the Mother&Baby Awards 2014
The Mother&Baby Awards rates the best baby products by how well their army of mums rates them. They don't only test prams, of course, but pretty much any baby product there is. Last year they published the 2014 winners in August. This list included detailed information about WHY certain products actually won, so I find that very useful.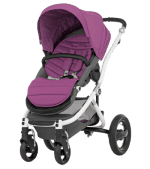 The list, which you can find on motherandbaby.co.uk, is actually many mini-lists in one: the winners of best pushchair, best multiple pushchair (tandem, twin, etc), best travel system, and best light-weight pushchairs.
While the top listed prams might not go through 6 months of testing before being short-listed, Mother&Baby is a trusted and well respected magazine for mothers and I will assume they have done their proper research. A safe choice from this list would be the BRITAX affinity that won two awards.
Best Pushchairs
1.  Britax Affinity - stylish looks and practical
2.  Baby Jogger, City Versa - great for a bump-free ride
3.  Mamas & Papas, Sola - lightweight and easy to control
Best Multiple Pushchair
1.  Mountain Buggy, Duet - fantastic for different-aged children or two toddlers
2.  BabyStyle, Oyster Max - excellent quality and very easy to steer
3.  Obaby, ZeZu Multi Pramette With Tandem Kit - can be used as a single or a doublez

Best Travel System
1.  Britax, Affinity  - ticks all the boxes
2.  Joie, Mirus Travel System - good quality and comfortable (not sure how they know if it's comfortable)
3.  Mamas&Papas, Urbo - it has a reversible seat to add flexibility
Best Light-Weight
1.  Maclaren, Quest - lightweight yet sturdy
2.  Graco, Evo Mini - well designed with plenty of storage space
3.  Nuna, PEPP - can be installed in 5 seconds
Celebrity Prams
Your pram is more than just a practical way to transport your baby and whether you like it or not, it is also a status symbol. So much so that once a celebrity starts using certain pram the sales of that particular brand goes through the roof.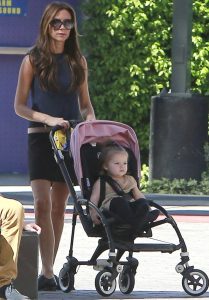 Perhaps the most know celebrity pram is the one I went for: the Bugaboo Bee. Bugaboo that was launched in the UK as far back as 2003 and has in recent years become synonymous with wealth and success. Celebrities like Gwyneth Paltrow, Victoria Beckham, and Kate Middleton have all been seen using one. And no wonder: the most expensive model, the Bugaboo Donkey, costs no less than a whopping £1,200. If that is not a status symbol I don't know what is.

Luckily, there are alternatives to the pricey Donkey and today you can find a stylish pram without necessarily having to spend a fortune. Most major brands sell a model that costs a little more but looks a lot better. Below are three examples of prams that celebrities use that are reasonably priced.
Baby Jogger City Mini Single Stroller
As mentioned above, this pram is well rated by its users. But its not only us mortals who prefers this one-handed and stylish pram: according to stroller-envy.com the City Mini has been used by a range of famous people including Naomi Watts, Matt Damon, Julia Roberts and Halle Berry.
[slideshow_deploy id='296']
The Baby Jogger's best seller comes in a range of colours, from classical black to a flamboyant bright orange. The use of the three point wheel system makes it looks less chunky than a four wheel. You can read my review here.
The Baby Jogger also has a the patented Quick-Fold Technology that allows you to hold the baby in one hand and fold the pram with the other. An excellent way to look casual about doing something that normally would be incredibly unglamorous!
Orbit Baby Stroller G3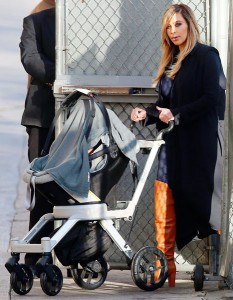 It was actually the Orbit Baby Stroller G2 that first became popular. Celebrities like Jessica Alba and Kim Kardashian have chosen this pram probably because of its slick look and clever design.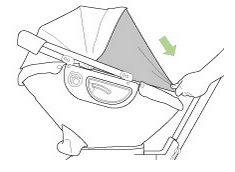 The Orbit Baby Stroller is unique because its famous trademarked Full Coverage Paparazzi Shield - a very clever marketing trick I have to say - which allows you to completely cover your baby from those curious photographers hiding in the bushes. If paparazzis are a problem for you, this pram is definitely the right choice.
Note, however, that the G2 model has since then been discontinued and replaced with the G3.

The company behind the Orbit Baby have not been lazy, though, and they have put some serious effort in improving the new model such as updated the interior upholstery fabric as well making a more durable outer fabric.
Maclaren Techno XT
Not to be confused with Formula One Racing team McLaren, Maclaren is one of the more popular strollers of the last couple of years. This post is mainly about finding a pram but this stroller i suitable from birth.
It's easy to fold and has received many 5 star rating on sites like mumsnet.com. As most strollers, this is also light, weighing only 7kg. More than being popular with famous people, according to their website the Techno XT has won 5 different awards including best Pushchair Mother & Baby Award - motherandbaby.co.uk.
Ex-spice Geri Halliway, American actor Toby Maguire, and Brazilian supermodel Gisele Bundchen, are all fans of this surprisingly normal-looking stroller.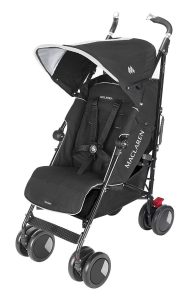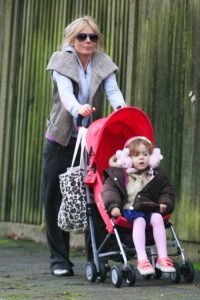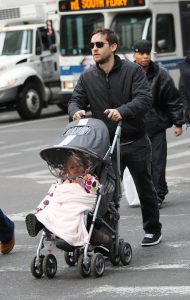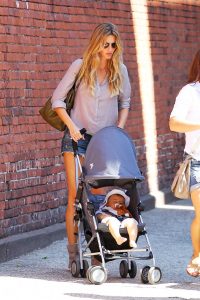 Conclusion
I strongly believe that the only mistake you can make when buying a new pram is not knowing what you need before you buy it. A good pram should make your life easier, not hold you back. Hopefully this guide has helped you in identifying the things that matters the most to you, your baby and the life you live. After reading this, at least you can make an informed decision and choose the perfect pram.
When you are walking down the street with your baby and can truly enjoy the experience, you know that you made a good purchase.
So there you have it. Did I miss something? Did something not sound right? Let me know in the comment section and I will add it in.
Did this guide help you? If so, please don't hesitate to get in touch.
Good luck!
Sources
M.Sengölge, J.Vincenten, Child Safety Product Guide: potentially dangerous products. Birmingham: European Child Safety Alliance, EuroSafe; 2013.
Weigh vs Price content: http://www.momsstrollerreviews.com/single-stroller-comparison-chart/