I hope you find my posts informative and helpful. Just so you know some links in this post may be affiliate links. For more information review my Privacy Policy.
Finding the perfect sit and stand stroller for your children can be a bit of a chore, especially if you don't know what to look for. For those who are new to the concept of sit and stand strollers, they are basically designed for families with two children close enough in age to be able to each sit comfortably in one of these strollers. Of course, you can also use a sit and stand stroller with one child, but that's not what they were designed for. These tandem units typically have an infant seat in the front and a bench/platform seat in the back. Obviously, the infant seat is designed for infants while the back seat is mainly used for the older child who can use this seat to stand or sit on. These strollers are designed to be lightweight and aren't the best for jogging or off sidewalk trips. Now that you have a better understanding of what exactly a sit and stand stroller is, here are three of the absolute best strollers that will undoubtedly let your kids enjoy the ride.
The Baby Trend Sit N Stand Ultra Stroller starts our list because the Baby Trend Company is well-known for being one of the first manufacturers to make these fantastic products. Although being the first to make a new product doesn't necessarily mean it's going to be good, this product certainly defies that notion. What sets the Baby Trend Sit N Stand Ultra Stroller apart from its competitors is its sturdy yet lightweight design. This product will certainly last throughout your child's toddler years and then some. It's designed to hold about 100 pounds with the weight evenly balanced with 50 pounds in the front and 50 pounds in the rear seat. These weight restrictions are certainly not set in stone, either, with many customers claiming they can comfortably hold five and even ten pounds more than that.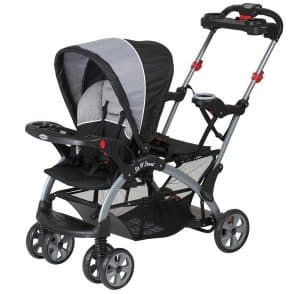 Another great aspect of this product is its versatility. You will obviously be able to use this stroller as it was designed with the infant seated in front and the toddler in the back, but you can also attach most infant car seats to the front of the stroller, as well as to the back. This thoughtful design also allows you to attach two car seats (one in the front and one in the back) if you so desire. Though some car seats are not compatible with this configuration, most will work without issue.
Of course, when it comes to strollers, you want to make sure they are safe. This is certainly true of this product as it comes with a 5-point safety harness in the front and a 3-point safety system in the rear. There is also a foot-activated brake in the back.
This particular stroller also comes equipped with multiple cup holders, a large canopy, and a sizable storage compartment and the price is very affordable. Finally, the Sit N Stand Ultra is only about 26 pounds and can be easily folded and stored.
Next on our list, is the Joovy Caboose Ultralight Graphite Stroller. This fantastic product makes our list because it is one of most durable, yet lightweight strollers on the market today. At only 22 pounds this machine utilizes an aircraft-grade aluminum frame that makes it a breeze to use. Like most sit and stand strollers, you will be able to easily navigate with an infant in front and toddler either sitting or standing on the bench in back. It also comes with the standard universal car seat adapter, a large canopy, beverage holders, and zippered pockets for convenient storage.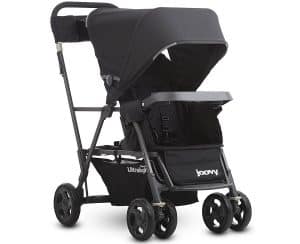 Though this product is only designed to hold about 90 pounds total, it still makes maneuvering a breeze. It accomplishes this by utilizing sealed ball bearing wheels and a four-wheeled suspension system. What's more, at a highly competitive price, the Joovy Caboose Ultralight Graphite Stroller is a rather inexpensive option that will certainly go the distance.
Rounding up our list is the Dream On Me/Mia Moda Compagno Stroller. This product makes our top three because it has all the amenities you would expect from a sit and stand stroller and then some. It features exceptional maneuverability with its all-wheel suspension and also offers a universal car seat adapter. What makes this product stand out is the rather thick and comfortable padded seat combo, which ensures a comfortable ride. It also goes above and beyond in terms of safety with a 5-point harness system in both the front and the rear seat.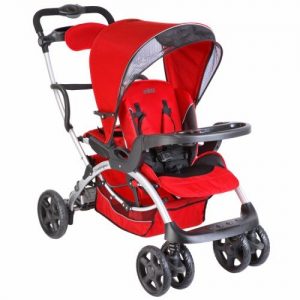 Another great feature of this product is its adjustable handlebars. Most sit and stand strollers incorporate fixed handlebars which can become a bit frustrating at times. Having the option to adjust them certainly makes this product much easier to use and is simply a great option to have. Though it's a bit heavier than some other strollers, at around 34 pounds, it still is rather easy to pick up and store. Customers also tend to appreciate the extra weight as it helps with its maneuverability. Finally, customers simply like the curved design and bright color of this particular stroller.
With a highly competitive price tag, this product is definitely affordable and is guaranteed to last many years.
---
There are certainly many other great sit and stand strollers available, but the ones in this review stand above the rest. They have all of the fantastic features you would expect from a stroller and they do so while not being terribly expensive. Taking your children out and about is a relatively carefree experience when using these strollers. Because of their lightweight designs and focus on comfort and safety you will have little to worry about when taking your children out on the town.
---